On this page you can find the ingredients for the American Pale Ale Recipe I talk about here as well as American Pale Ale all grain beer kits I recommend.
Get Your Ingredients Here
8lbs 2 Row – Pale Ale Malt (or order on amazon here)
1lb Crystal 40L (or order on amazon here)
1lb Cara Foam (or order on amazon here)
1oz Northern Brewer (or order on amazon here)
2oz Cascade (or order on amazon here)
Safale US-05 (or order on amazon here)
Use a Beer Kit Instead
There are a lot of advantages to simply picking up a beer kit that provides you with the recipe, intructions and ingredients ready to go.  Some of the best beer I have ever brewed has started from a beer kit I picked up.
The following beer kit is a Sierra Nevada Pale Ale Clone from Adventures in Homebrewing.  Sierra Nevada was the oringal American Pale Ale and it is delicious.  This kit gets great reviews: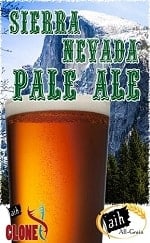 Click here to order one for yourself today!
Need Brewing Equipment?
I personally brew on an All-In-One Electrical System.  You can read all about why I consider these to be the best systems to brew on here:
Why The All-In-One-Electric Systems are the Best!
If you are thinking about getting one of these systems for yourself you can see the ones I recommend here:
Recommended All-In-One Electrical Brewing Systems
I have put together a list of all of the other brewing equipment you need and I recommend here:
Brewing Equipment Big Robb Recommends
Now go get your brew awwnn…
Oh yeaahh!
Big Robb is out.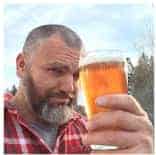 P.S. If you like my recipes I have put together a list of my top 5 favorite of all time.  You can sign up to recieve it for free on the side of the blog (bottom if on smart device).  Cheers!