Most homebrewers will first start making beer with a DIY beer kit.  They are a great introduction to this hobby and the easiest way to make your first few batches of beer.  Over the years the quality of the materials and the taste of the beer from these kits has definitely improved.  In this post you are going to find a detailed Coopers homebrew kit review.
Although the Coopers beer kit was not the first kit I ever purchased, I can tell you that it was the first one I ever purchased that made good beer for being a malt extract kit. 
Product: Coopers DIY Beer Kit
Best Deal: Amazon
Batch Size: 6 Gallons (23 – 24 liters)
My Rating: 9.5 out of 10
Product Overview
Before we get into the detailed review of this kit, let's quickly take a look at what you get with this kit:
Brewing Fermenter – Large mouth fermenter, modeled after the conical fermenters, capable of brewing 6 gallons of beer.
Bottling Valve – This valve is located at the base of the fermenter. It allows for bottling without a siphon which is very convenient.
Bottling Wand – Typical bottling wand that works well.
Krausen Kollar – This handy tool sits at the top of the fermenter, it is removed after initial fermentation and allows for a cleaner, clearer beer with less chance of infection.
Hydrometer and measuring flask – Used to calculate your original gravity and final gravity to determine alcohol content.
Mash Paddle – A large plastic mixing spoon.
Beer Bottles.- You get 30 reusable plastic beer bottles with caps. (740ml PET bottles)
Coopers Lager refill beer kit –  a can of pre-hopped liquid extract/concentrate that makes 6 gallons of beer.
Brew Enhancer 1 – Used to improve your beer's body, head retention and mouthfeel.
Carbonation Drops – For carbonating your beer. You add one drop to each bottle. Much easier than batch/bulk priming and produces better carbonation.
For the most part everything you need to make your first batch of beer is included with a coopers home brew kit.
The Fermenter is Excellent 
The fermenter that comes with this DIY kit is one of the best I have ever used. It has a wide or large mouth, which when it comes down to cleaning is great. It allows you to really get into the fermenter and scrub (with a soft cloth) in order to get any leftover grime out, which of course reduces infection.
Some of the fermenters on the market have such a small mouth that it is very difficult to clean them, which increases the chance of infection in your next batch of beer. There is nothing worse than having to dump a batch of beer down the sink due to it having an infection.
Another bonus of the large mouth is that adding ingredients to the fermenter is also easier; no spillage down the sides.
This fermenter also has a spigot on the front of it.  It's a great addition to any fermenter and I am actually surprised that that all fermenters do not have one, it is that valuable of a tool.
Having a spigot means you no longer have to use a siphon in order to bottle your beer, which I always find is awkward to use and terrible to have to clean.  With this fermenter you simply hook the bottling wand up to the spigot, put the wand in your beer bottle and turn the spigot on. Easy and simple.
The fermenter also comes with what they call a Krausen Kollar; which is a great invention and additional component  that you will not find in many other beer kits.
The collar has a lip at one end of it that when placed into the fermenter sits on the top and holds it in place, the cover to the fermenter then sits on top of the krausen collar.
After the initial stage of fermentation where the krausen has risen and then fallen back down, the krausen ring that is left around the top of the fermenter can be removed by removing this collar. This makes for a cleaner, clearer beer and the chance of infection is reduced.
Beer Kit Accessories
The accessories are decent to good. Nothing too fancy but they do the job and are items you would typically need to purchase in addition to the kit so it's convenient that they come with this one.
The hydrometer and measuring flask are ok. They are why this kit gets a 9.5 rating out of 10 and not a 10. Down the road after you get a few brews under your belt I would probably recommend that you pick up a different hydrometer. The one with this kit is plastic and I do not like it as much as the glass hydrometers you can buy. Not a big deal, it does the trick and hydrometers are not expensive. I think I have at least 10 of them kicking around my brew area.
The Mash Paddle (plastic spoon) does the job just fine. It is nothing fancy, but it is long enough to reach the bottom of the fermenter and it is plastic; which is good as it will not scratch the sides of the fermenter. You never want to use a metal spoon in a plastic fermenter as it can scratch the sides of the fermenter increasing the chance of infection occurring.
The Beer Bottles that come with the Coopers Beer Kit are your standard plastic beer bottles you see with most kits.  They hold 740ML of beer which makes for a good pour.
You may eventually move into kegging your beer due to it being easier than bottling, but truth be told, beer conditioned in a bottle always tastes better than kegged beer. And these bottles do the trick just fine.
A quick note on the bottle caps. Some people say you need to replace the caps after each use, that is not hard or expensive to do; however I have not found this to be a requirement. I have found that as long as I screw the caps down tight they will make a seal and I can use them for many batches.
Coopers Beer Refills
A review of any DIY beer kit would not be complete without a review of the actual beer that the kits makes.  This kit comes with what are referred to as refills.  They are basically cans of pre-hopped liquid malt extract; coopers makes some of the best beer refills on the market. They have been doing this for a long time and as you will be able to tell by the taste they know what they are doing.
The following is a little tip for you and one that will be hard for you to follow through on, as it is also hard for me to do.
The beer that any diy beer kit makes is always better if after you brew and bottle the beer you give it time to age and condition. This is done by putting the bottles away in a dark space in your home at room temperature and letting them sit.
Let them sit as long as you can stand waiting. The longer the better.
After two weeks you will have drinkable beer that will taste decent.  However after 1 month the taste will improve significantly and after 2 months even more so.  The longer you can let the beer sit the better it is going to taste.
These kits typically come with a Lager Beer Kit Refill; as well as what they call a beer enhancer that you add to the kit to help improve it's flavor.  Combined they do make some of the best malt extract beer on the market.
Coopers, Mr Beer (also made by coopers), and Muntons are my favorite pre-hopped concentrate beer kits. Coopers has been around for many years and their kits make good beer. The beer enhancer is not a must have, but it does add a little extra in the way of mouth feel, and head retention to your beer.
Styles of Beer You Can Make
The initial kit comes with the Lager, however there is a wide range of cooper beer refills you can buy. One thing I will point out is that any lager styles are not true lagers as you do not go through the lagering process when brewing them, but they are still pretty tasty and a decent attempt at replicating a true lager.
The following are the beer styles you can brew with this kit:
Wheat Beer
Pilsner
India Pale Ale (IPA)
Australian Pale Ale
Mexican Cerveza
Canadian Blonde Ale
European Lager
English Special Bitter (ESB)
Lager
Draught
Real Ale
Dark Ale
Carbonation Drops
The carbonation drops that come with this beer kit were my first introduction to carbonation drops and do they ever make bottling day much easier.  I never enjoyed having to batch or bulk prime on bottling day as it was just one more tedious step in the process.
With these carbonation drops you simply drop one into each bottle, fill the bottles up with beer and put the bottles aside for a couple of weeks and voila you have perfectly carbonated beer. They really do a great job.
Muntons does sell their own version of carbonation drops, but I do prefer the Coopers Carbonation drops. To this day I keep a bag of their drops handy and if after kegging a batch and I have some beer left over I will fill up a couple of bottles and carb them with these drops.
Here is a full tutorial on how to bottle your beer.
Coopers Beer Kit Pros and Cons
The Pros:
Very simple to get started making beer
The quality of the equipment is top notch.
You can continue to use the equipment when you advance to partial mash or all grain brewing.
Makes good malt extract beer
The instructions are very details and easy to follow
The Cons:
The only con is that the beer that you make is still only malt extract beer which is not as good of quality as craft beer, but certainly as good as most commercial beers.
So What's The Verdict?
Well it should be pretty obvious from this coopers home brew kit review that I am a huge fan.  You can check out my videos on YouTube and you will see me using this exact system to brew many beers.
I believe that if you are looking for a good starter beer kit you can't go wrong with this one.
Note:  Want to get one for yourself?  You can Click Here to order one today!
If you have any questions about the kit itself or how to make beer with it feel free to drop them in the comment section below and I will be sure to help you!
Now go get your brew awwnn…
Cheers Big Robb is Out!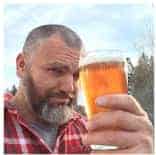 P.S.  If you ever want to move from making beer from malt extract into all grain brewing you can check out my guide on how to do so here: All Grain Brewing Instructions; and I would also recommend you try brewing up some of my best recipes which you can sign up to get for free on the side of the blog or the bottom if you are on a smart device.  Enjoy!