And finally, bottling day has arrived. As a homebrewer, there is nothing better than knowing you are getting one step closer to being able to crack the top on one of your delicious fresh new brews.
In today's post, we are going to look at using carbonation drops vs priming sugar and I am going to help you make sure that when you go to pop that top you get the perfect "popping sound", carbonation and head when you pour it into your glass.
Because there is absolutely nothing worse than grabbing a bottle of your beer, popping that top, and having a massive beer gusher come flying out of the top of the bottle because you over-carbonated it; or almost as bad pouring it into your glass and the beer has no head and is flat because you under carbonated it.
Both of these have happened to me in the past and they both result in some choice words being said… never a good thing.
So to avoid these two catastrophes from happening to you we are going to discuss how to carbonate perfectly every time.
The Traditional Way of Carbonating Beer
For years how most home-brewed beers was carbonated in a bottle was by adding priming sugar individually to each bottle of beer using a spoon; or by batch priming which is adding sugar to all of the beer before putting it in the bottle.
Priming sugar (dextrose) is manufactured using corn, which reacts with the yeast still in the beer resulting in a natural carbonation. Most people recommend that you add the priming sugar to water and then boil it before adding it to the beer.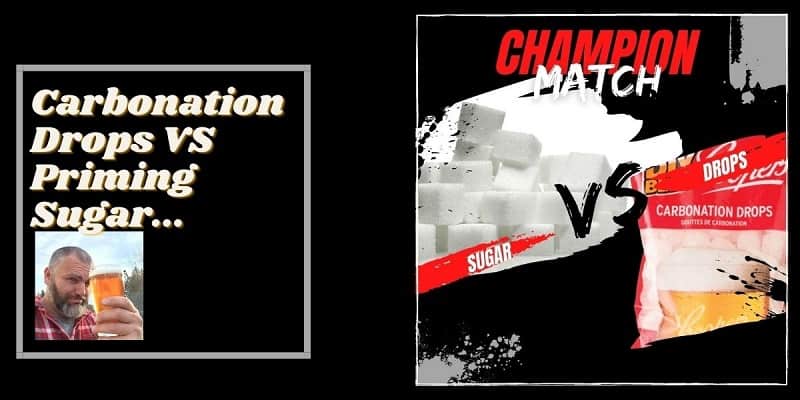 There are a few problems with using priming sugar instead of carbonation drops.
It is messy. Trying to add the sugar directly into the bottle can be tricky and most times results in more than a few spills of sugar down the side of the bottle.
It takes time. Adding sugar directly to each bottle takes time. It can be a tedious task and it is one of the reasons people complain about bottling beer versus kegging it. Even batch priming takes quite a bit more time than using carbonation drops.
It is not accurate. Using priming sugar can be tricky to get the right and same carbonation level between each bottle. Some will be just right, others over-carbonated, and some under carbonated. It's just the nature of carbonating with priming sugar.
Carbonation Drops are a Game-Changer
In my books, carbonation drops were a game-changer when it comes to naturally carbonating in beer bottles. And I actually prefer drinking a naturally carbonated beer versus one carbonated in a keg with C02, they just taste better and have a better mouthfeel to them.
But I use to hate having to add sugar to the bottles and I did not like batch priming any better. Carbonation drops made it a whole ton easier to bottle beer and once I started using them I never turned back.
Bottling homebrew becomes an incredibly easy thing to do when you use carbonation drops. All that you need to do is add 1-2 drops to your beer bottle before filling them with home brew. Then simply pour the brew into the bottle. Be sure to leave around one-two inches of space at the top. Let the bottles sit for 7 – 10 days and voila you have perfectly carbonated beer ready to be enjoyed.
So what is a Carbonation Drop?
Good ol' sucrose AKA sugar!
That's it sugar. I tend to prefer the Coopers Carbonation drops and the exact ingredients for them are 73% dextrose and 27% glucose. They also do not have any additives or preservatives in them.
So why use them versus priming sugar?  The main reason people use them is if they want to make their bottling process simpler and less time-consuming, as well as keeping the mess and clean-up time down.
The other great thing about them is that using a carbonation drop like Coopers ensures that each bottle of home brew is provided with the exact same amount of sugar. This provides for a consistent carbonation across all of your brews and prevents the gushers from happening.
Gushers = equals beer erupting out of the top of your bottle like a volcano when you open one due to over carbonation.
As well because these drops are made up of 73% dextrose and 27% glucose I have found that you do not get any of the off-flavors you can get from some of the other sugars people use to carbonate their beer. This ratio of dextrose to glucose adds a nice mouthfeel and carbonation with no change in the taste of how the beer is supposed to taste.
How You Use the Carbonation Drops
No question that using these drops is the simplest part of the whole beer-making process. The same cannot be said for priming sugar.
Once you have cleaned and sanitized your bottles, all you do is simply drop 1-2 into each bottle and fill them up with your homebrew. Again be sure to leave about 1-2 inches of space at the top of each bottle. This allows room for the C02 that is going to be created and makes sure you do not have any exploding bottles. Which is far less likely to happen with drops vs priming sugar.
Put the caps on the bottles and Bada Boom Bada Bing you are done! Easy peasy!
How Many Drops Per Bottle
OK, a few times in this post I have said add 1 – 2 drops to the beer bottle. So which is it, 1 -2?
Of course, that depends on the size of the bottle you are using.  This is not overly complicated so don't overthink this. I have never had a problem with my beer being over-carbonated or under carbonated using Coopers Drops.
So use one drop for bottles that are 350 ml (12 oz)
I also use one drop for bottles that are 500 ml (16 oz). Some people recommend using 1.5 drops. Up to you if you want to cut them in half and do so. First, maybe try 1 and if you don't think it is carbonated enough, next time around use 1.5.
For 750 ml (25 oz) bottles I use 2.
And for 1-liter bottles, I also use 2, but again I have heard tell of people using 2.5. So up to you.
It's not an exact science but those figures have worked great for me.
Frequently Asked Questions about Carbonation Drops
FAQ #1: Do you have to sterilize them before using them?
Unlike priming sugar where it is recommended to add it to some boiling water, you do not need to sterilize the drops.
Simply make sure your hands are clean and remove the drop directly from its bag and put it into the bottle and you will be fine.
FAQ #2: Do I add more or fewer drops depending on the style of home brew?
This is Make Beer Easy so the quick answer is no you do not need to worry about it. And I would recommend not worrying about it. The carbonation will be just fine for all styles if you follow the previous instructions on how many to add per bottle.
The technical and more advanced answer is that different styles can call for different levels of carbonation. But when you start to get into varying levels of carbonation between styles of brews you are really overcomplicating things and the average home brewer would not only never worry about such things, but would most likely never be able to tell the difference between the carbonation levels between the different styles.
FAQ #3: How long will it take for my home-brewed beer to carbonate?
There is no difference in time between using Coopers drops or any other brand as compared to using normal priming sugar.
My answer is always let your beer age as long as you can stand it. Most styles taste much better with age.
Your brew will have some decent carbonation within 7 days, and be pretty much fully carbonated in 14 days. But again if you can wait at least 4 weeks you are going to have a great tasting beer on your hands.
And again this is not just a trait of these drops but of any carbonating methods including using C02; the longer the beer ages and conditions the better. The exception would be super hoppy beers like NEIPA's as they do better fresher.
A Few Quick Tips for Carbonating Your Home Brew
Tip #1: Watch the temperature of the room that you are carbonating in. Carbonation occurs because the yeast in the beer comes back to life as you add more sugar to it. As the yeast eats the sugar it produces C02. So just like when you are fermenting your homebrew; if the room is too cold the yeast will go to sleep and not carbonate the brew.
If the room is too hot you can get off-flavors. A good rule of thumb is to keep the space you are carbonating in at around the same temperature that the room you fermented in was. Typically, I shoot for a room temperature between 65 – 70 Degrees F (18 – 21 C).
Tip #2: For any of you cider home brewers out there, yes you can use the drops to carbonate your cider as well and the measurements would be the same.
Tip #3: Although these drops are very inexpensive to use they are slightly more expensive than just using normal priming sugar like dextrose (corn sugar). So my advice is when ordering them online order in a few packets at once at it will cut back on your shipping fees.
Tip #4: And lastly if you decide to use dextrose (corn sugar) then be careful of over carbonating the beer or you can end up with exploding bottles or gushers. The rule of thumb is ¾ a cup of dextrose for a 5-gallon batch. And I have found if I am adding the sugar directly to the bottles, that 1 tsp works great for the 1-liter bottles.
Additional Resources
If you need help bottling your beer you can check out the following post as it is a full instructional guide on how to bottle homebrew.
If you want to order some drops check out my top 5 favorite online vendors here, the support is appreciated:
To Sum it Up
In the end, deciding whether to use carbonation drops vs priming sugar comes down to what you prefer and how you want to brew.
Choose the methods that is better suited for you. Carbonation drops are quick, easy, simple, and less messy. Whereas priming sugar takes more effort, is messier but is a bit less expensive.
Give them both a try if you are torn between which is best suited for you.
And again my recommendation and experience has been that Coopers makes the better of the sugar drops on the market.
If I can answer any questions you have add them in the comment section below and I will be sure to get back to you.  Also what is your experience with priming sugar, which method do you prefer, let us know!
Cheers, Big Robb is out!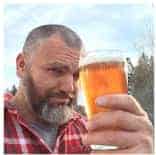 P.S. Check out my free recipe giveaway on the side of the blog or bottom if you are on a phone.  Get my top 5 all-time favorite recipes today.