One of the best investments I ever made at my brew pub was ordering the Bouncer Beer Filter.  It is a highly effective and very simple to use inline beer filter that had an instant effect on cleaning up and clearing my beer.  They come in two sizes: the standard Bouncer and the Bouncer MD which stands for Mac Daddy.
We brewed 1 barrel batches at my pub so the Mac Daddy size worked great and made sense for us to use because not everyone (especially your average beer drinker) is ok with cloudy beers.  Now as a homebrewer I was previously in the camp of thinking there was no need to filter, why bother I figured, cloudy beer did not bother me.
To me my beer turned out just fine, clear enough, so why bother complicating the process by trying to figure out how to filter home brew with an inline filter like the Bouncer Beer Filter?
I did all of the usual beer clearing activities:
I would use whirlfloc with 20 minutes left in the boil to clear the beer.
I would cold crash the beer after fermentation while it was still in the fermenter.
And if I wanted a really clear beer I would add gelatin to my beer.
Plus you can always rack your beer to a secondary (I never do, but you could)
And of course any beer will clear given enough time. So I would let it sit and condition, which is never a bad thing.
I always thought filtering beer would be a complicated or time consuming step in the brewing process that would require some sort of expensive and convoluted filter.
I envisioned myself having to break out the tool box and modify a water filter into becoming a beer filter.
I figured by having to take a filter apart to clean and sanitize all of its little parts I would be making more work for myself when it came to clean up time.
And as you know since this is Make Beer Easy and I am all about finding ways to simplify the brewing process and as a result using a filter simply did not appeal to me.
The Bouncer Beer Filter Changed My Mind 
Well since I came across the bouncer beer filter I now use it to filter most of my beers and I would say that if you like a clear beer it is a must have piece of kit.
So what changed and why?
I was doing some research on the internet for economical methods to filter home brew and I stumbled across this little gadget.
I remember thinking isn't that an interesting little filter, it looked really easy to use and clean.  I was also impressed at all of the sediment, trub, and floaties the guy in the video was showing that it removed from his beer.
Since the filter is reasonably inexpensive,  I decided to try it out and ordered one.
The rest is now history.  I was highly impressed with the job this filter did in clearing the beer and how easy it was to use and as such I have never looked back.
 So How Does The Bouncer Work?
It is used after fermentation while you are transferring your beer either to a secondary, kegs or beer bottles.
The filter itself connects directly to your transfer line.
I use two of their filters on my transfer line in sequence, the first has the larger micron (red filter) and the second has the smaller micron (blue filter).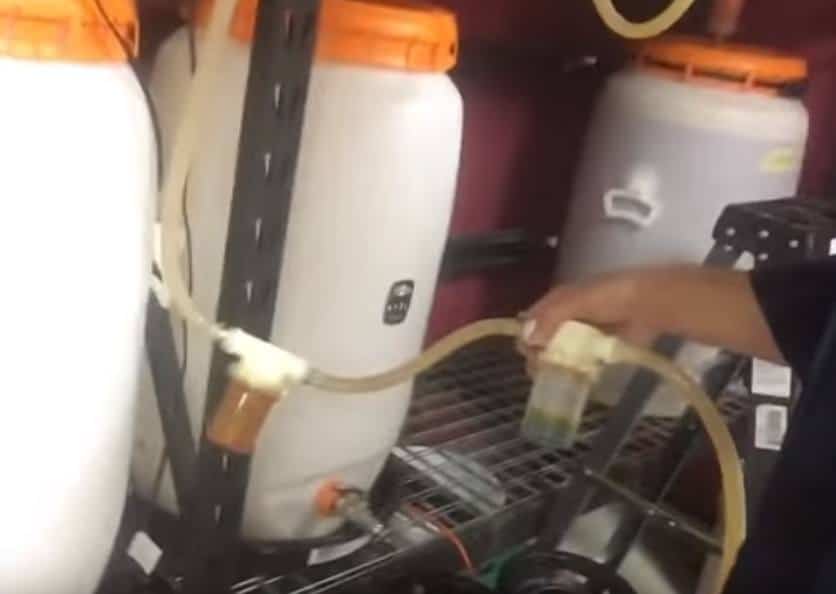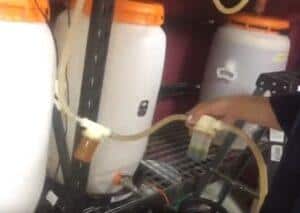 I connect the red filter up higher on the wort transfer line, closer to the fermenter and then I connect the blue filter farther down the transfer line.
The red filter catches the larger pieces of sediment and then the blue filter catches the smaller pieces that made it through the red.
I was very impressed with the results when I first used this filter. The first beer I tried it on was a blonde ale and I thought to myself the beer looked pretty clear in the fermenter already and I doubted the bouncer would catch much if any material.
Turns out I was wrong.  After I was done transferring my beer the filters were both full of sediment that it had filtered out of my beer and the end result was the beer was definitely one of the clearest beers I had ever brewed.
Easy to Use
I have included a video of me using the Bouncer Beer Filter at the end of this post so you can see how easy it is to use.
Basically it takes about 5 minutes to get it integrated with your existing system.  Doing so simply entails taking your transfer line you already use and cutting it.  Then simply attaching one of the ends you just cut to the "wort in" side of the filter.  Next you attach the other end of the line line to the "wort out" side of the filter and that is it.
If you are using two filters (red & blue) like I did you would repeat that process.
When you are ready to go, turn on your spigot like you usually would and allow the wort to run through the line into the filters and out the other end into your keg or bottling bucket, etc.
I will admit I am not that technically inclined and I found setting this filter up to be very simple.
Besides producing really clear beer the second best part was that cleaning the filter was very simple.
The filters sit in a little clear plastic base that screws on to the top of the unit. Simply unscrew the base of the container, take out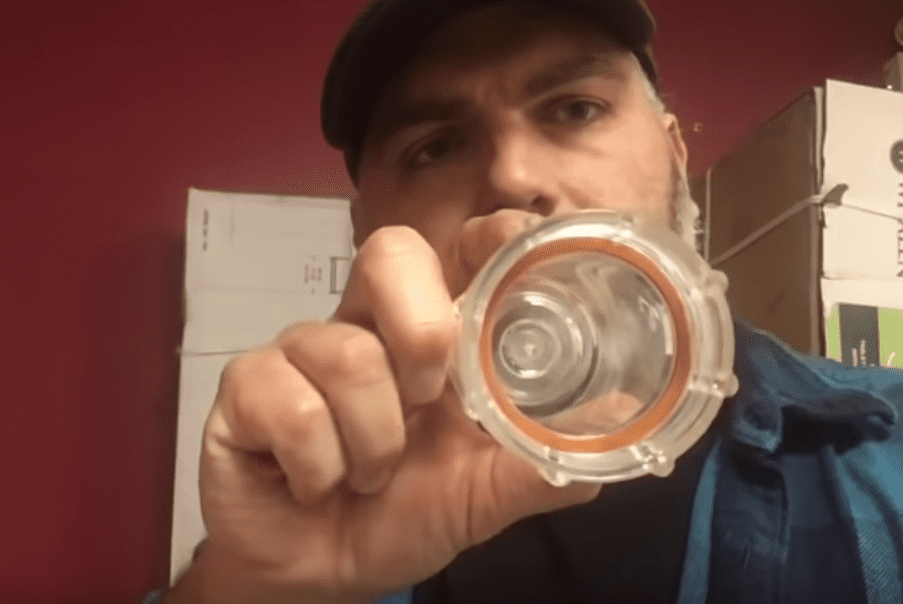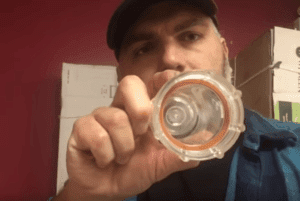 the filter, spray it with a hose or rinse it under your tap, dunk the whole unit in star san and you are done and ready to filter and clear up your next brew!
Is There a Downside?
If there is a downside to this inline beer filter it would be when you are brewing super hoppy beers; you may find that the hops block the filter during the transfer.
Which is really not a big deal.  For super hoppy beers like NEIPA's you would not want to filter in most cases anyways as you want the cloudy effect the hops create.
However if you did want to use the filter for these types of beers all you need to do is half way through transfering your beer turn off the spigot off, unscrew the base of the filter container, take the filter out and give it a quick rinse under the sink to get all the hop material out
Give it a quick spray with star san, screw it back in place and turn the spigot back on.
Not a big deal and a heck of a lot better than ending up with floaties in your beer or a blocked liquid line in your keg.
I do want to stress this is only something I ever had to do with beers that I dry hopped with a large amount of hops.
Watch The Bouncer In Action
So What's The Verdict
Is a homebrew inline filter a necessity? Absolutely not.
But if you would like to make really clear beer, for the price and ease of use and the great job it does, the Bouncer Beer Filter may just be something you want to try out for yourself.
For me it has definitely become an essential part of my brewing set up.  If you have one now or if you decide to order one let us know what you think of it in the comment section.
Speaking of ordering one, if you want one for yourself give some thought to ordering it from our recommended vendors, when you do they provide us with a referral fee at absolutly no charge to you.  You buy it for the same price you would whether I send you to them or not.  It's win-win and I greatly appreciate it.  You can grab one here.
If you have any questions on how it works feel free to drop me a comment in the comments below and I will be happy to help you out!
Now go get your brew awnn!
Cheers Big Robb is Out!!
P.S. Do you want to get your hands on the recipes to brew my top 5 favorite beers from my brew pub?  They are yours free my friend, you can sign up to get access to them now on the side of the blog or on the bottom if you are on a smartphone.  Enjoy!