To filter or not to filter that is the home brewing question?
Since this is Make Beer Easy I was always in the camp of no need to filter… why bother I figured?
I thought my beer turned out just fine, clear enough, so why bother complicating by figuring out how to filter home brew with an inline filter like the Bouncer Beer Filter?
I did all of the usual beer clearing activities:
I would use whirlflock with 20 minutes left in the boil to clear the beer.
I would cold crash the beer after fermentation while it was still in the fermenter.
And if I wanted to really up the clear my beer game I would add gelatin to my beer.
Plus you can always rack your beer to a secondary (I never do, but you could)
And of course any beer will clear given enough time. So I would let it sit and condition, which is never a bad thing…
I always thought filtering beer would be a complicated or time consuming step in the brewing process that would require some sort of fancy dance expensive and convoluted filter…
I envisioned myself having to break out the tool box and modify or jerry-rig a water filter into becoming a beer filter…
I figured I would be adding more time into clean up… having to take a filter apart and clean and sanitize all of its little parts, etc.
And again since this is Make Beer Easy and I am all about finding ways to simplify the brewing process using a filter simply did not appeal to me…
So What Changed for Big Robb?
Well since I came across the bouncer beer filter I do now use it to filter most of my beers AND I like it… By jumpings I love it!!
So what changed and why?
Well I was playing around on the internet looking a wee bit into how to filter home brew and I just happened to stumble across this little bouncer gadget… can't even remember how or where…
… but I do remember thinking "that is pretty cool"
… "that looks really easy to use and clean"
… and "damn look at all of the sediment, trub, and floaties that filter is hauling out of the beer".
And since the filter is really inexpensive to buy… I said feck it and I ordered one up to give it the ol'college try!
And the rest is now history… I was highly impressed with the job this filter did in the way of clearing the beer and how easy it was to use and as such I have never looked back.
So How Does It Work?
So basically how the bouncer work is… it is used after fermentation… while you are transferring your beer either to a secondary, kegs or beer bottles…
The filter itself connects directly to your transfer line…
I picked up two bouncer filters… one has the larger micron (Red filter) and one has the smaller micron (blue filter)…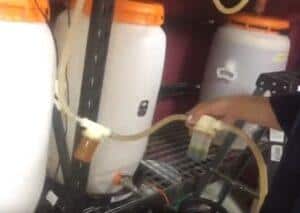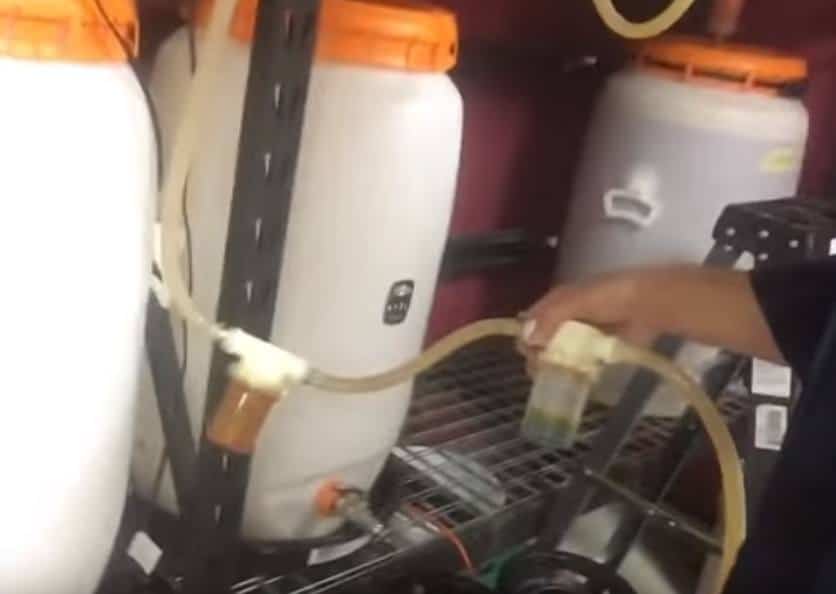 So what I do is connect the red filter up higher on the wort transfer line… closer to the fermenter and then I connect the blue filter farther down the transfer line….
And what happens is the red filter catches the larger pieces of gunk… and then the blue filter catches the smaller pieces of gunk…
And man I really was blown away with the results when I first used this filter… I was kegging a blonde ale and I thought to myself the beer looked pretty clear in the fermenter already and there would be no way that the bouncer would catch much if any material…
…yup I was wrong
… after I was done transferring my beer the filters were both full of gunk it had filtered out of my beer and the end result was the beer was definitely one of the clearest beers I had ever brewed.
Easy to Use
I have included a video of me using the Bouncer Beer Filter at the end of this post so you can see how easy it is to use.
Basically it takes about 5 minutes to get it integrated with your existing system… and all that entails is taking your transfer line you already use and cutting it…
attaching one end you just cut to the "wort in" side of the filter…
and then attaching the other end of the line to the "wort out" side of the filter and you are done…
… of course if you are using two filters (red & blue) like I did you would repeat that process.
Then you just turn your spigot to on like you usually would and allow the wort to run through the line into the filters and out the other end into your keg, etc…
I am FAR from a technically inclined dude and it was a snap to set this up.
And cleaning it is a joke…
… the filters sit in a little clear plastic base that screws on to the top of the unit…. So you simply unscrew the base of the container, take out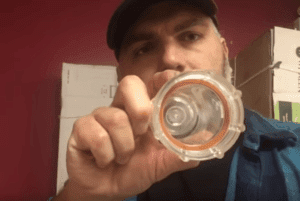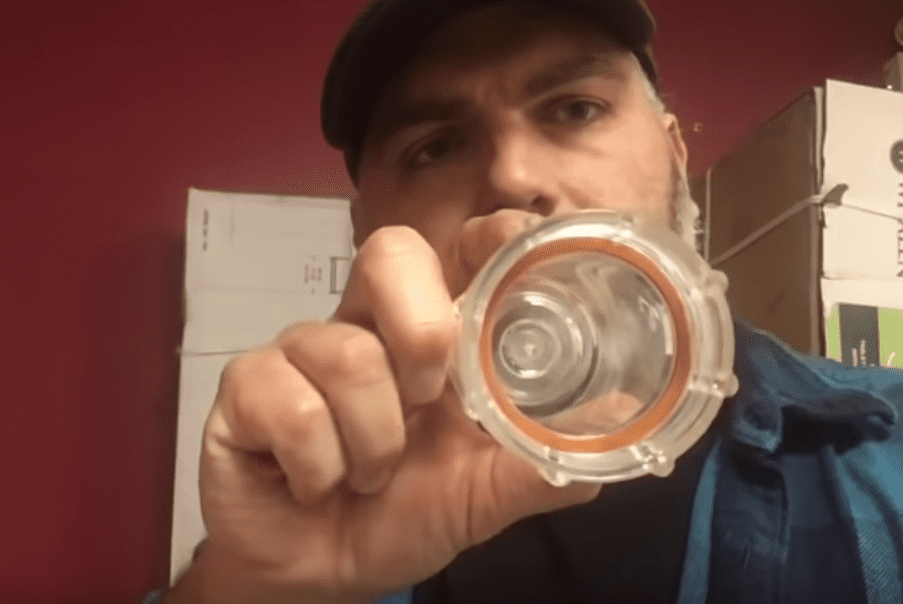 the filter, spray it with a hose or rinse it under your tap… dunk the whole thing in some star san and bob is your freaking uncle… done and done and ready to filter and clear up your next brew!
Want One For Yourself?
You can get your own on Amazon.  Here is the link to check it out!
Is There a Down Side?
Is there a down side to this homebrew inline filter?
Maybe, perhaps just one… If you are a huge NEIPA fan or simply love to dry hop the shite out of your beer then you will find you "May" block up the filter during the transfer.
This is not a huge problem… I found that if I brew this type of beer then maybe half way through the transfer of my beer I will have to close the spigot…
… unscrew the base of the filter container
… take the filter out and give it a quick rinse under the sink to get all the hop material out
… then give it a quick spray with star san,
…screw it back in place and turn on the spigot again and I am good to go.
Not a problem… and a heck of a lot better than ending up with floaties in my beer or a blocked liquid line in my keg.
Watch The Bouncer In Action
So What's The Verdict
Is a homebrew inline filter a necessity? Absolutely not.
But if you are wanting to lean how to filter home brew and wish to have really clear beer… for the price and ease of use and the great job it does the Bouncer Beer Filter may just be something you want to try out for yourself.
It's definitely now a staple with my brew set up… I love the little bugger!
And Pretty sure you will to… if you grab one let me know what you think!
Again if you want to get one for yourself you can do so by Clicking Here (takes you to another page on my site)!
If you have any questions about how it works, etc feel free to drop me a comment in the comments below and I will be happy to help you out!
Cheers Big Robb is out!!