With Grain Mills you can either go the manual route or powered.
With the manual route you will be turning (cranking) the handle on the mill to crush your grains and with the powered route you would use a drill.
More Beer has a great selection of Grain Mills.
You can Click Here to see their full selection.
The Following are the two that I would recommend depending on if you want to go with a manual mill or a drill powered mills.
For a Manual Mill The Malt Muncher 3 Roller Grain Mill is a a great option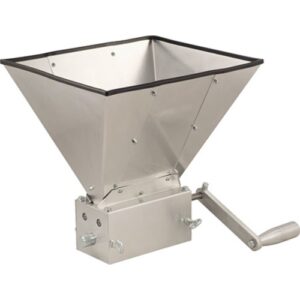 You Can Click Here to order the Malt Muncher
For a Drill Powered mill the Monster Mill MM3 is an excellent choice.