If you're a fan of India Pale Ales, then there is a good chance you also love the hazy IPA that has taken the craft beer world by storm in recent years. Known for their juicy and tropical-like flavors along with their hazy and cloudy appearance it is no surprise that in a short amount of time, they have become one of the world's most popular beers.
In this article, we'll provide you with a Hazy IPA recipe as well as take a look at the ingredients used to make one in case you want to design your own recipe or modify the one in this article, and lastly, we will provide you with some tips on how to make sure your Hazy IPA has the right cloudy look and juicy flavor they are known for.
Hazy IPA Recipe
The following hazy IPA recipe will result in a beer that's jam-packed with tropical juicy fruit flavors with a hazy and cloudy appearance.
Note: This recipe is for a 5-gallon batch of beer. You will need to adjust the ingredients and instructions accordingly for larger or smaller batches.
ABV: 6.7%
OG: 1.063
FG: 1.012
IBU: 43
SRM: 5.6
Recipe Ingredients
10 lbs 2-row malt
1 lb wheat malt
1 lb oats
0.5 lb flaked barley
0.5 lb honey malt
0.5 oz Mosaic hops (60 min)
1 oz Citra hops (5 min)
1 oz Mosaic Whirlpool
1 oz Citra Whirlpool
2 oz Mosaic hops (dry hop)
2 oz Citra hops (dry hop)
1 pack of your favorite yeast (see below for options)
Recipe Instructions
Heat the water to 158-160°F and mix in the grains. Mash for 60 minutes at 150-152°F.
Raise the temperature to 168 – 170°F and mash out for 10 minutes.
Sparge the grains with enough water to bring your kettle up to pre boil level.
Bring the wort to a boil and add 0.5 oz Mosaic hops. Boil for 60 minutes.
Add the Citra hops with 5 minutes left in the boil.
At flameout add the 1oz of Citra and 1 oz of Mosaic, stir the wort to create a whirlpool effect, and let the hops steep for 10 – 20 minutes before moving to the cooling stage.
Cool the wort to fermentation temperature and pitch the yeast.
Ferment at 65 – 70°F for 10 – 14 days.
Dry hop with 2 oz Mosaic and 2 oz Citra hops for 3-5 days, add the hops when the most vigorous stage of active fermentation is completed, usually around day 5.
Carbonate the beer naturally or under pressure.
Enjoy! Unlike other beers, Hazy IPAs are best enjoyed fresh.
Hazy IPA Recipe Ingredients
First, let's take a look at the grain bill. The key to getting the smooth and creamy mouthfeel along with the hazy appearance they are known for is using a high percentage of wheat, oats, and barley.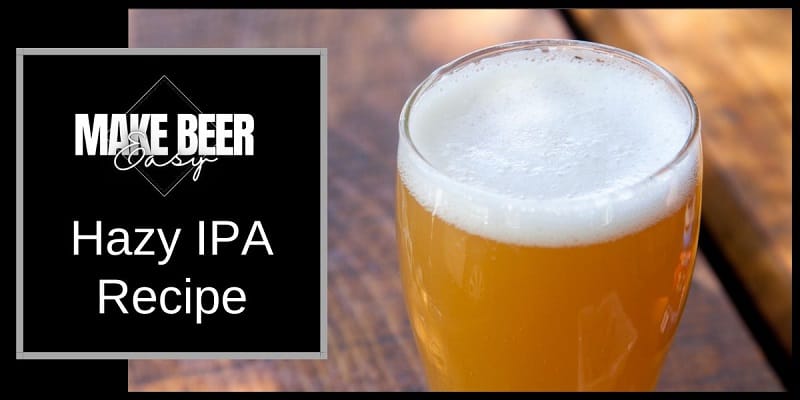 When it comes to the hops, you'll want to use a variety that's known for its tropical and citrusy flavors. Some of the more popular hops used in these types of recipes include Citra, Mosaic, and Nelson Sauvin.
There are several brands of yeast that work well for brewing hazy IPAs. Some of the more popular brands are:
Wyeast 1318 London III: This yeast strain is a very popular choice for hazy IPAs, as it produces a fruity and spicy aroma with a slight hint of sulfur. It is known for having high attenuation rate, which helps to dry out the beer and make it less sweet.
White Labs WLP001 California Ale Yeast: This brand is known for its ability to produce a clean and neutral fermentation, which allows the hops and other flavors to shine through.
Fermentis Safale US-05: This is a popular dry yeast that can be used to ferment hazy IPAs. It produces a clean fermentation profile, allowing the hop aroma and flavor to come through.
Imperial Yeast A38 Juice: This is another popular high-attenuating yeast strain that produces fruit aromas and is actually specifically designed for hazy/juicy beers.
Characteristics of a Hazy IPA
Now that we've covered the key ingredients, let's take a quick look at what a hazy IPA actually is. They are a sub-style of India Pale Ales and also called NEIPA, they are known for their juicy, fruity flavors and hazy, cloudy appearance. They're typically brewed with high levels of malted wheat and oats which help give it its cloudy appearance and soft and creamy mouthfeel (almost pillow-like), they are also heavily dry-hopped with tropical and citrusy hops. Hazy IPAs are also low in bitterness and considered to be sweet tasting.
When it comes to appearance, besides being cloudy and hazy looking they range in color from a pale yellow to deep orange. Their aroma is typically fruity and tropical, with notes of citrus, pine, and tropical fruits. The taste is also fruity and tropical, with a juicy and smooth finish. The mouthfeel is typically smooth and creamy, with a low level of bitterness.
Hazy IPAs pair well with a variety of foods. They're a great match for spicy dishes, such as Thai or Indian cuisine as well as seafood and sushi and they also go great with BBQ foods and grilled meats.
Last Call
Hazy IPAs are a relatively new trend in the craft beer world. They first became popular in the New England region of the United States in the early 2010s. The trend quickly spread and they are now a popular style of beer all over the world.
Brewing one can be a challenging, but rewarding experience and if you follow a simple Hazy IPA recipe like the one in this article and use the right grains, hops, and yeast, you can be confident that your beer will meet the style profile and be loaded with juicy, fruity flavors and have that hazy and cloudy look.
P.S. Do you want more beer recipes? Pick up our gift to you of Big Robb's top 5 favorites from his brewpub, details are on the side of the blog or at the bottom if you are on your phone. Cheers!