When it comes to where you can get your homebrewing supplies there are a handful of stores that are simply a cut above the rest.  From my experience Adventures in Homebrewing is one of them.  I have been doing business with them for a few years now, both from the standpoint of ordering homebrew supplies and as an affiliate where I recommend them to people who read my blog and watch my youtube videos.
In this post, I am going to do somewhat of a review of this store as well as give you a quick overview of their operation and provide you with details on what they offer homebrewing supplies they sell.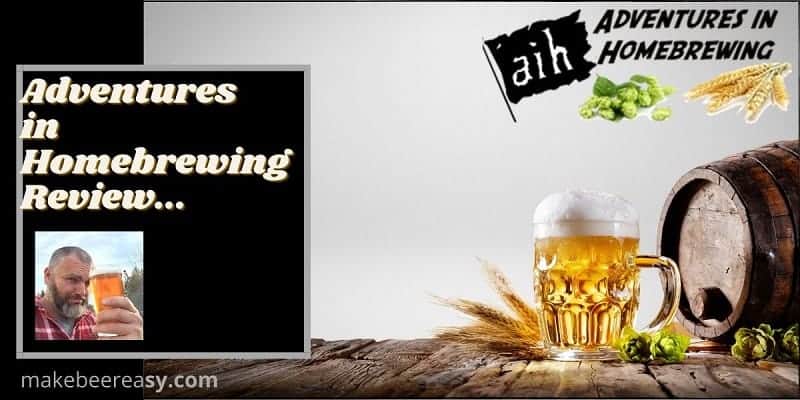 Who Are Adventures in Homebrewing?
They are a family-owned homebrewing store that specializes in beer making, kegging, and winemaking. Besides selling home brewing supplies online they have 2 stores. One in Ann Harbour MI and the other in Taylor MI.
They first started selling home supplies back in 1999 out of what they claim was a love for homebrewing. They were both apparently quite new to making beer but quickly gained a passion for the hobby and became excited about the possibilities of owning a store. The first store they opened was located in Dearborn, MI.
This is actually the first ad they ever ran on TV:
Their about us page has more details on who they are and their origin story, you can check it out here: aih about us page.
What Do They Sell?
When it comes to what they offer, they pretty much cover the whole gambit of homebrewing supplies, for both making beer and wine; to include any piece of equipment you could possibly need as well as a very large selection of beer making ingredients and beer making kits.
The following are sections on their site:
1) Brewing Equipment:
Under this section they list the following items the supply:
Beer Brewing Equipment Kits,
Boiling Equipment (kettles),
Measuring and Testing Equipment (hydrometer, etc),
Fermenting Equipment
Sanitizing and Line Cleaning
Beer Bottling (bottles, caps, etc)
2) All Grain Brewing
The following items are offered in this section:
All Grain Equipment
Brewing Hardware
Complete All Grain Systems
Grainfather Brewing System
Blichmann Engineering
and more…
3) Kegging Supplies
Here they offer:
Home Brew Kegs
Kegging Accessories
Jockey Box Equipment
Kegging Systems
and more…
4) Beer Recipe Kits
They have a great selection of recipes and I really enjoy a lot of their kits.  Depending on your experience level they offer both all-grain recipe kits for the experienced brewer and malt extract recipe kits for the novice and intermediate brewer.
They also carry some really good partial mash kits such as the kits from Brewers Best which I consider to be the best on the market.
I really enjoy their all-grain kits they put together themselves. They come with all the ingredients and the recipe to brew up some very good all-grain recipes; which saves you from having to source out or create your own recipe and then order the ingredients individually.
5) Beer Ingredients
They also carry a large selection of ingredients for those of you who like to make your own recipes:
Hops
Grains, Malts, Sugars
Flavoring and Spices
Yeast
Brewing Salts and Treatments
Beer Finings
Their selection of ingredients is impressive, they carry pretty much any ingredient you would require for homebrewing, and their pricing is quite reasonable.
6) Wine and Cider
Their website has a large section devoted to winemaking which also includes products to be able to make cider.  They supply all of the ingredients, equipment, kits, purees, and even wine refrigerators.
You will also find a section for making spirits on their site.
To sum it up they supply pretty much anything and everything you could possibly ever need to get set up with a good home brewing system, whether you want to go BIAB, All-in-One-Brewing System, or a traditional 3 Vessel system.
Plus all the ingredients to keep you brewing a wide variety of beers.
And the all-grain beer kits they put together make some very tasty beers. Their recipes are well-thought-out and you can reuse them any time you want to brew up that beer again, just reorder the ingredients, and your all set.
To see the full selection of what they have to offer you can check it out here: Adventures in Homebrewing products.
Return Policy
They have a very fair return policy. I must say I have never had to use it. Anything I have ever ordered from them arrived in good condition and was exactly as advertised on their site.
Their site indicates that they offer a 30 day from the purchase return policy.  If something is not working they ask you not to try to fix it.  The items you return must be unused or they might bill you a 30% restocking fee.  So something you purchased is broken my recommendation would be to just send it back.  Their site also indicates that if the product is defective they will cover the shipping, again as long as it is within the first 30 days.
Seems fair enough to me, if you order something and it shows up and it is not working or not quite what you thought it was going to be they'll take it back within 30 days and if it is a defective product they will even pay the shipping.
Here is a link to full details on their return policy: aih Return Policy.
Adventures in Homebrewing Free Shipping
Their site advertises fast and free shipping and indicates that not only do they have the best homebrewing prices but you can get your order shipped to you for free.  There are of course some stipulations, the first being that your order must be over $55 and that this policy only applies to the lower 48 states.
They also provide a list of items that their Fast and Free shipping does not apply to, which appear to be larger more fragile items.  You can see their shipping policy and excluded items here: aih Shipping Policy.
Adventures in Homebrewing Hours
When ordering online you can of course do so at any hour of the day or night.
If you are looking for a homebrewing store near you and want to drop in then their store hours are listed as follows:
Tuesday – Friday: 11:00 am – 6:00 pm
Saturday: 10:00 am – 5:00 pm
Sunday: 12:00 pm – 4:00 pm
Monday: CLOSED
In regards to customer service, I have told you that in my experience they are top-notch in this regard and always respond very quickly to emails. I have never actually called their customer service line directly however the following are their listed hours for the same:
Customer Service Hours:
Monday – Friday: 10:00 am-7:00 pm
Saturday: 10:00 am-5:00 pm
Sunday: 12:00 pm-4:00 pm
If you call them do me a favor and report back to us on your experience and I will include it in this post!
Does Big Robb Recommend Them?
I do recommend Adventures in Homebrewing and have for some time.  I do so because I was a customer first and have always had a great experience with them and they have such a wide selection of products that I can get everything I require from them at great prices.
Their customer service is awesome. I like to email and when I have a question I always hear back from them the very same day.
They have all the brewing equipment you would ever need and they carry very high-quality products and as we have already discussed their beer kits are in my opinion some of the best out there, especially their all-grain kits.
Here is a link to their website if you want to check them out for yourself or order yourself up some homebrewing goodies: aih Wesbite.
NOTE: that if you do happen to like them as I do and make a purchase at no extra charge to you they will send me a referral fee. Few pennies to help keep this site up and running and maybe a wee bit left over to allow me to buy a new homebrewing toy or two, so of course, I appreciate your support! Cheers!
If you have any questions on what equipment or ingredients you should order of what beer kits I recommend feel free to ask in the comments and I will help you out.
Also if you have any experience ordering from Adventures in Homebrewing then let us know.
Cheers, Big Robb is Out!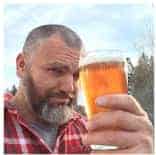 P.S. For you all-grain brewers out there for a limited time I am giving away the recipes to my top 5 best selling beers from my brewpub.  You can get your copy now by signing up on the side of the blog or the bottom if you are on a smart device.  Enjoy!