Alright today we are going to look at what Big Robb considers to be the top 7 Best Beer Making Kits on the market.
The kits I am going to talk about will include kits from 4 different types of brewing to include: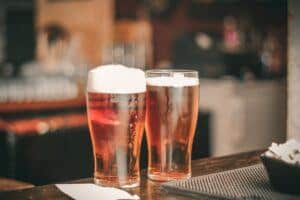 The top 2 kits for the beginner brewer. The person just starting out. These are Malt Extract kits.
The top 2 kits for the intermediate brewer. A person who has some experience with brewing beginner kits and is ready to up their game a little bit. These are Partial Mash type kits.
The top 2 kits for the advanced brewer. These kits are for people who are looking to get into All Grain brewing and make the same quality of beer as your local craft brewery.
And lastly we are going to look at an automated brewing system that reduces all of the hassle and mess that is typically associated with all grain brewing. Ideal for the person who loves to make beer, but does not have the time to put in a full brew day or the space for all of the typical brewing equipment required to brew all grain beer.
Should You Bother With A Beer Kit?
So first off when someone hears the words "Beer Kits" it could mean one of two things:
Just the ingredients to make beer
A complete kit to include all of the equipment and the ingredients.
Today we are looking at kits that include the equipment and the ingredients to brew up your first batch.
If you already have your equipment and are looking to pick up ingredient kits, you can click here to do so.
So when it comes to either just getting started brewing or moving from malt extract to partial mash and than to all grain, I certainly think it makes a ton of sense to pick up a kit that includes everything you will need to be able to brew up a batch of homebrew, meaning all the equipment and the ingredients.
Can You Make a Good Tasting Beer with A Home Brew Kit?
Without Question. Man has been making his own beer as a hobby for thousands of years and believe it or not we have it down to a science.
I will admit that when I first started making my own homebrew the beginner malt extract kits you purchased back than were nowhere near as good as they are now. However, we managed to pinch our noses and swallow the first mug down and than somehow next few always went down much easier.
However, the advancements in the last 10 years in the quality and taste of the malt extract and partial mash kits has been tremendous and the beer you make with them is very tasty. As good or even better than most commercial beers on the market.
Now admittedly if you want to have the very best of the best there is no question that All Grain kits are where you want to be.
What's in a Beer Making Kit?
This varies of course depending on if you purchase a Beginner, Intermediate or Advanced kit.
However, all of the kits we are going to look at today come with everything you need to make a batch of beer.
Obviously the intermediate kits are going to have more equipment than the beginner and the advanced kits are going to require more equipment than the intermediate.
If you are just starting out, my recommendation is to always pick up a beginner kit first.
There are a few reasons for this:
You learn the basics of brewing. Making beer is not hard, even at the advanced level, BUT there is quite a bit to it. So start at the beginning and learn the basics of how beer is made. A beginner kit will teach you all about sanitization (crucial), fermentation and bottling.
You keep the cost down as you learn. Although still quite reasonable in cost there is no question that all grain kit is more expensive than a beginner or intermediate kit. So by starting at the beginner level you get to make beer, see if you will enjoy the hobby all the while keeping your initial investment low.
The equipment you get with a beginner kit you will use with the intermediate and advanced. So the money you invest at the beginner level will not go to waste if you decide to move up to the next levels. This allows you to piece together your brewery in stages keeping the cost down.
What Kit is Right for You?
As discussed your first decision is to determine at what level you want to start at. Beginner, Intermediate or Advanced. The choice is all yours.
I started at the beginner level, went to the intermediate and than moved to advanced.
My neighbor started at the intermediate level and was glad he did as he found the beer at that level to be more to his liking than at the beginner level.
Which I can understand, because the beginner level makes beer that is more in line with the commercial beers that you see on the market, i.e. Budweiser, Miller, Coors, etc. Whereas at the intermediate level you have more flexibility and can start to add more ingredients to the brew which allows you to customize it and make it more like a craft beer.
And than a very good buddy of mine he started out brewing All Grain (advanced). Had no experience brewing at all previously and made great tasting Craft Beer right out of the gates.
So the choice is yours…
Once you make that decision now you need to look at the Batch Size you want to make. How much homebrew do you want to make?
Some of the kits we are going to look at will make 1 gallon, others 2 gallons and than others will make 5 – 10 gallons.
Some people like the smaller batches as they can experiment more and not have to worry about having 5 gallons of beer sitting around if it does not turn out to their liking (never been a problem for me, I found the beer disappears very quickly with myself and my buddies lol)
Other people go with the larger batches as they want to have enough beer on hand for themselves and to share with friends and family. Nothing worse than running out of a batch of homebrew too soon.
Another thing to look at when deciding how big of a system you want to start out with is how much space you have at home to dedicate to your hobby. Obviously the larger the system the more space you will need.
Alright… enough of that… let's take a look at the kits themselves.
Big Robb's Top 7 Homebrew Kits
First up are the beginner kits…
I am a huge fan of both of these kits and the only decision you need to make between the two is which size you want to go with, i.e. how much beer you want to make…
Top Small Batch Beginner Kit – The Mr. Beer Premium Gold Edition 2 Gallon Craft Beer Making Kit
I love Mr. Beer. These guys have been around a long time and just continue to up their game year after year. Their kits make delicious beer and are a breeze to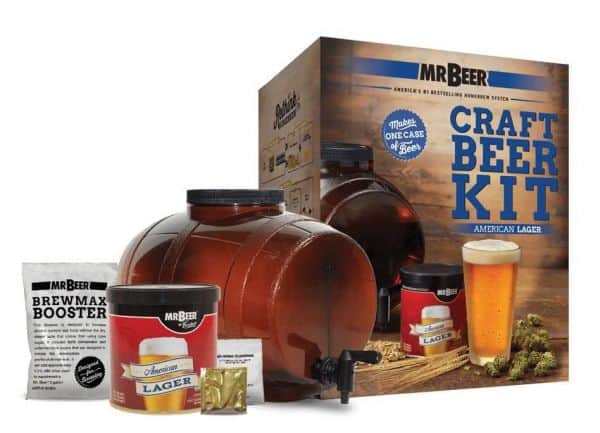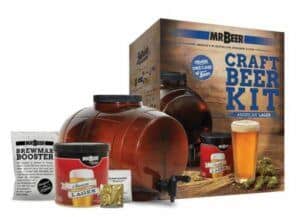 brew. The equipment is top quality and the customer service and support from Mr Beer is top-notch.
The Mr. Beer Premium Gold Edition 2 Gallon Homebrewing Craft Beer Making Kit comes with two beer refills (making a total of four gallons of beer), a two-gallon fermenter, plus bottles, carbonation drops, sanitizer and more.
The Mr Beer kit is perfect for the beginner homebrew. Somebody who wants to learn what is involved with homebrewing but wants to start small. If you do not want to invest a lot of money and time into this hobby to start out with than this kit is the perfect way to get started.
As you can see on the reviews on Amazon most people enjoy their Mr. Beer kits. They find that brewing on them is a straight forward process and they enjoy the finished product.
I've written about these kits quite extensively on this blog. If you want more information about them you can check out the following posts: Mr Beer Kit Instructions
If you want to pick up your own Mr Beer Kit and/or read the reviews on Amazon you can Click Here to do so.
Top 5 Gallon Beginner Kit – Coopers DIY Beer Kit
Next up and a very close cousin to Mr. Beer is the Coopers DIY Beer Kit. I say a very close cousin because most people probably do not realize but Coopers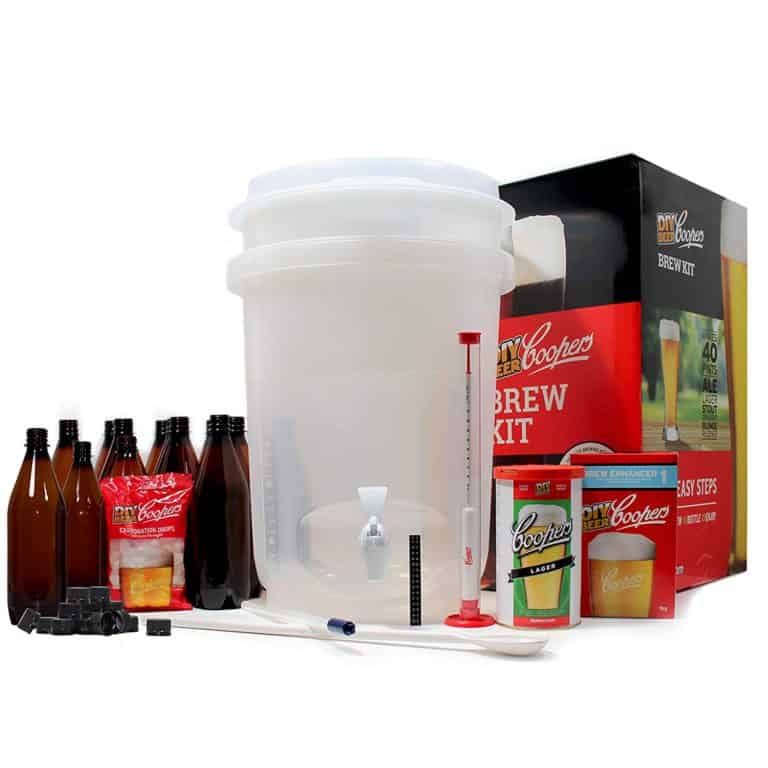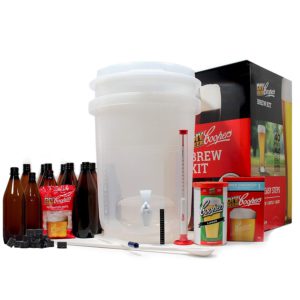 actually purchased Mr. Beer some time back and is the reason why the quality of Mr. Beer has improved so much.
Coopers is in my opinion the God Father of the modern day beginner Malt Extract Beer kits.
They have been around a long time and they have raised the bar when it comes to the quality of equipment and ingredient of these types of kits.
I absolutely love their fermenter. I believe it is one of the best on the market. I use it to this day with many of my All Grain beers I brew.
And like Mr. Beer the homebrew you will make with this set up is very good for a beginner kit.
I have also written extensively about their kits on this blog, if you wish for more information on them you can read about them here: Coopers Brew Kit
If you wish to pick up Coopers for yourself and/or read reviews on Amazon you can do so by Clicking Here
Next up are the Intermediate kits…
Partial mash brewing is great for a bunch of reasons, the main reason being that it gives you a great introduction to all grain brewing but at a fraction of the price. Plus the beer it makes is a significant step up from the beginner level.
Top Small Batch Intermediate Kit – Northern Brewer's 1 Gallon Craft Beer Making Starter Kit
This kit is a great way to get started making some partial mash beers. Instead of committing to full 5 gallon batches this kit allows you to make 1 gallon batches.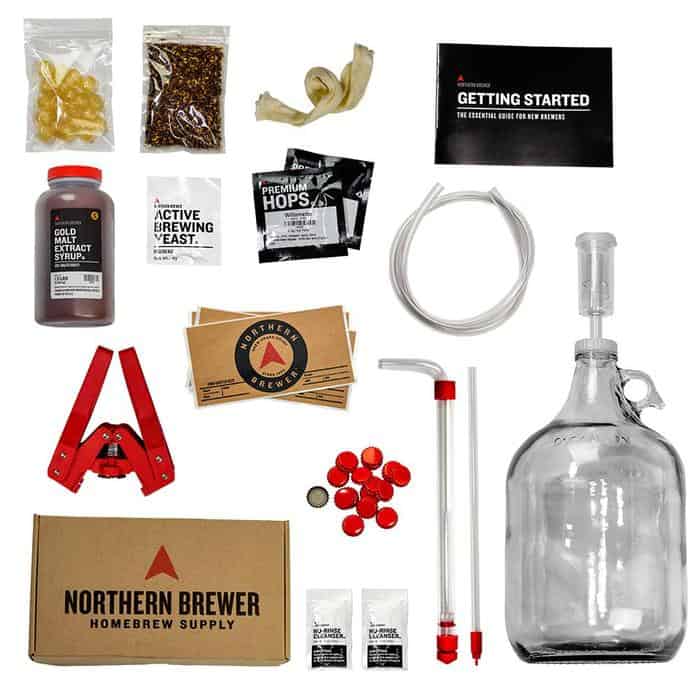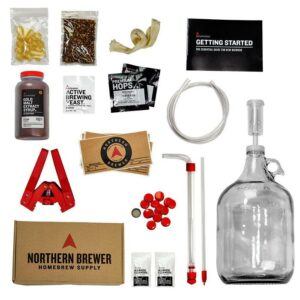 Which due to its size it is a serious space saver. If you are restricted in the amount of space you have than you are going to love the glass fermenter that comes with this kit. It's a great little fermenter that gets the job done in a big way but takes up a fraction of the space of a regular size fermenter.
Included with the fermenter is an airlock, bung, blow off hose, bottle capper, 12 beer bottles, caps, auto siphon and all of the ingredients to brew your first batch of beer on this system.
The kit comes with easy to follow instructions on how to make the beer.
This is a great little kit whether you have limited space for brewing or whether you simply just wish to brew up some smaller batches of beer.
If you wish to order your own Northern Brewer's 1 Gallon Craft Beer Making set up you can check it out on Amazon and read the reviews on it for yourself by Clicking Here.
Top Intermediate 5 Gallon – the Brew. Share. Enjoy. Homebrew Starter Kit from Northern Brewer
This brewing kit has everything you need to make sure you not only have a great time brewing but are able to brew up some delicious beer the first time you use it. Regardless of your level of experience this kit is foolproof and it is virtually impossible to mess up a batch with it.
This kit is for anyone who is interested in getting started learning the process and what is involved in making very good tasting homebrew.
The Northern Brewer Brew. Share. Enjoy. Homebrew Starter Kit is a step up from most of the commercial kits on the market. It literally has everything you need to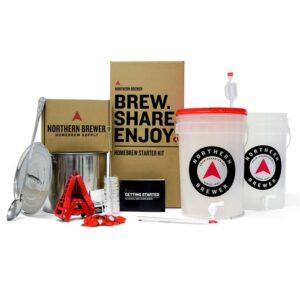 get started making your first batch of home brew the second it is delivered to your home.
With it you will get:
A stainless steel brew kettle (5 gallons)
6.5 gallon fermenter with Spigot assembly
Lid for fermenter which includes a Bubbler airlock
A bottling bucket (secondary fermenter) with Spigot assembly
Mash paddle (Spoon)
Auto Siphon
Bottle Filler
Bottle capper and bottle caps
Ingredients to brew a batch of beer
And a more…
Plus the customer service provided by Northern Brewer is one of the best in the business. They provide numerous ways for you to get in touch with them so if you run into any questions or concerns getting help from them is a snap.
Their kit is manufactured to give you absolutely everything you will require to make your first batch of beer. The only thing you will require is bottles for when fermentation is finished. However, this system includes a bottle capper and caps so all you need is to gather up some old beer you may have on hand or your buddies.
If you prefer to use swing top or plastic bottles you can grab some here.
This kit gets excellent reviews and overall people who have purchased are very pleased with it.
You can read the reviews on the kit and pick up your own kit by Clicking Here
Top Advanced Small Batch All Grain Kit: The 1 Gallon Brooklyn Brew Shop All Grain Starter Kit
This kit is a great way to try out All Grain brewing.
This idea by Brooklyn Brew shop to manufacture a kit that allows homebrewers to make 1 gallon (12 bottles) batches of all grain beer on their stove top was genius.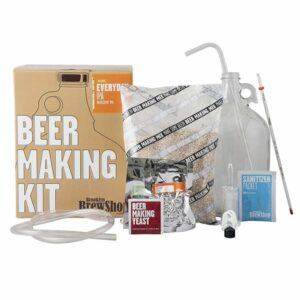 They have definitely set themselves apart and carved out a nice little niche in the homebrewing industry with this all grain beer making kit.
For a fraction of the price of the larger all grain kits you get to learn how to make all grain beer. You get to see how it works and you get to taste the beer and see if you enjoy it at minimal expense. It's a great way to get started with all grain brewing.
Most small batch kits like this would fall under the Intermediate level because they would use malt extract as part of the brewing process. But not this kit, it is a full on legitimate all grain kit, using only grains, hops and yeast just like the big boys.
This kit comes with:
A recipe and all the ingredients to brew your first batch
A glass fermenter
Air Lock
Glass thermometer
Racking cane (for bottling)
Vinyl tubing
Cleanser
It does not include the strainer, just a typical kitchen strainer will do. And you will also need a standard kitchen kettle (pot) and 12 beer bottles.
You can pick up beer bottles here
You can read the reviews on this kit and get one for yourself by Clicking Here
Top Advanced All Grain Kit (5 – 6 gallons): The Robobrew / BrewZilla V3.1 All Grain Brewing System with Pump
OK when it comes to All Grain brewing things can get very complicated and convoluted quickly if you allow them to. But have no fear this is Make Beer Easy after all and everything we do is to simplify and make brewing beer as easy and as painless a process as possible.
So where most people would recommend a 3 vessel brewing system, here at Make Beer Easy I am all about the 1 vessel systems. Which is referred to as Brew in a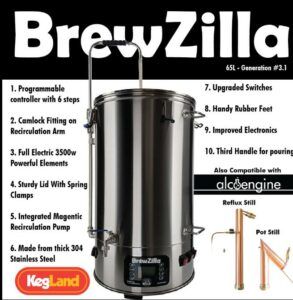 Bag or BIAB.
You can read all about BIAB here.
An upgrade to BIAB is the all-in-one brewing systems. They follow the same concept as BIAB however instead of a bag and a propane burner the all-in-one systems are electric systems and use a stainless steel grain basket.
You can read about the all in one systems here.
In this post we are going to look at what I now consider the Top All-In-One System on the market.
Which is the The RoboBrew BrewZilla!
Besides having an awesome name this all-in-one brewery comes with everything you could ever need to brew up a delicious batch of all-grain homebrew.
The Brewzilla has heating and boiling elements built in. And for the mash you are able to program whatever mashing schedule you like. What I really like about this system as opposed to others is that it has a built in pump that you use for recirculating, this makes a big difference during your mash.
This system is loaded with all of the bells and whistles to make brew day enjoyable and simple.
The control panel for setting your temperatures is very user-friendly and large enough that you can monitor your temperatures with ease.
The other great thing about these all-in-one systems are that they take up a fraction of the space of systems like the 2 and 3 vessel systems. This is a great thing during brew day as you can simply dig it out of storage and brew where you like and when finished put it away. With most 3 vessel systems people have a dedicated permanent spot for brewing that can take up a significant amount of space in your home.
If you are interested in picking up a RoboBrew Brewzilla you can do so by Clicking Here (you will also see the other all in one systems I recommend)
Next up is a high-tech very cool little brewery…
Top High-Tech Brew Kit: The Pico Model C
OK this little unit is a very cool piece of kit. Although not for the traditional homebrewer who likes to get down and dirty on brew day, it is perfect for the busy person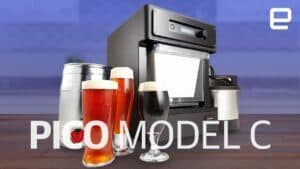 who likes craft beer, wants to make their own but does not have the time or space to brew in the traditional manner.
If this describes you than Pico Model C is something you should look at as it is a convenient space and time saving option. This system was manufactured as way for people to still enjoy homebrewing without having to deal with all of the typical equipment and processes you would see in a traditional set up.
So if you're in the market for a higher end but simpler brewery capable of making excellent beer, with minimal fuss and mess than this could be the unit for you. The quality and taste of the brews it makes will impress even the staunches of beer enthusiasts.
The Pico Model C produces 5 liters of beer or about 1 gallon, which works out to about 12 – 13 bottles of 12 ounce beer. You brew by using what they call PicoPaks. PicoPaks are basically ready to brew pre packed containers that are filled and ready to go with all of the ingredients (grains, hops, yeast) for the beer you are brewing.
Kind of like a Keurig coffee machine for brewing. lol
You simply order whichever PicoPak you want to brew up, they ship it to you, you place it into the Pico Model C, and basically just turn it on and it off it goes brewing the batch of beer for you.
What is cool is these PicoPaks feature recipes from some of the top large and small craft beer breweries in the world. The list is of what beers you can brew is always growing, at the moment there are over 180 different beers you can brew. So if you like a certain craft breweries beer there is a good chance you can brew it with the Pico Model C
As is apparent this would not be considered a typical beer kit as it does most of the brewing for you. However, as discussed if you are looking for an easy, less mess, less fuss way to brew p some delicious craft beer at home this may just be what you are looking for.
If you want to learn more about the Pico Model C and read reviews about them than Click Here to see it on Amazon.
In Conclusion
And there you have it my friend, Big Robbs list of the top 7 Best Beer Making Kits.
If you have any questions about these kits or brewing questions in general than drop a comment in the comment section below and I will do my best to help you out.
My biggest tip is start where you think is best for you taking into consideration the time you have to invest, the money you have to invest. And remember you can always modify and upgrade your system as you go.
And the biggest thing is to have fun, it's beer after all and beer is fun!
Cheers Big Robb is gone!