With new breweries opening every day, there's never been a better time to learn how to drink a craft beer than now! This guide will help you discover the perfect craft beer style for you along with other tips on food pairings, how different glasses can enhance the flavor, enjoying beer festivals, and more!
What is Craft Beer?
In short, craft beer is made by smaller independent breweries compared to larger domestic or multi-national breweries. For example, Anheuser-Busch produces Budweiser, Miller, and Corona among other internationally sold drinks, and they would be considered a macro-brewer. A company like Sierra Nevada, which was one of the first craft brewers in the US, has a much smaller output in comparison which allows them to focus more on unique and exciting flavors that can't be replicated in mass quantities.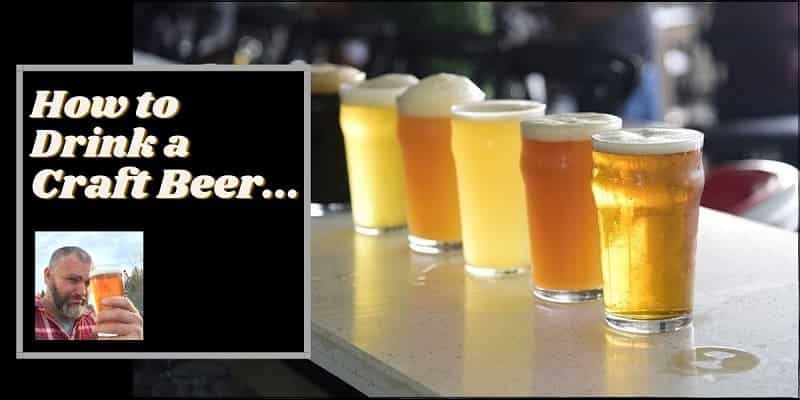 Since Sierra Nevada is family owned, and not owned by a large multi-national group, they retain their craft status despite being sold in many U.S. states. Lagunitas was a similar craft brewery; however, they lost their craft beer status after being sold to Heineken.
To go further, there are also countless micro-breweries that produce very small batches of craft beer to be sold locally. Some breweries are so small that they only sell on draft in their taproom, while others are able to expand further into other towns, states, and sometimes countries should they get popular enough. Regardless of their popularity, as long as they remain independent, they are considered a craft brewery.
While there's no set legal standard for what craft beer is or isn't, there are independent organizations like the Independent Craft Brewer Association which provides a logo on certified cans and bottles. This way, you can be guaranteed that you're enjoying the freshest and most independently produced brews available.
So why is the level of production important for craft beer enthusiasts? One of the main reasons is because craft breweries are able to focus on more intense and interesting flavor profiles than the major brands like Budweiser. Instead of focusing on quantity, craft breweries focus predominately on high-quality ingredients which makes the flavors more pronounced, intricate, and enjoyable.
Are all Craft Beers Equal?
Just because a beer is designated as "craft" doesn't mean you'll enjoy it or that it's even good. Not all craft breweries are alike; however, the competition within the industry is so intense that poorly rated beers are often forced out of the market quite quickly.
Whether you're at a bar or grocery store, you can quickly check reviews on your phone to ensure you make a smart purchase. There are many review aggravator sites along with forums where you can see whether the beer's favorably reviewed or not. Of course, there's also something special about simply buying a beer blindly and discovering it for yourself!
The Many Styles of Craft Beer
Craft beers are famous for featuring endless local and international styles along with experimental blends that create entirely new flavors. To pick the best craft beer, it's worthwhile to become familiar with some of the more popular styles:
• Pale Ale: An old favorite from England, pale ales are generally a light bronze in color with the taste of gentle malt, mild hops, and a slight bitterness. Both complex yet still light, this is a great beginner's drink!
• India Pale Ale: Commonly known as an "IPA," the Indian pale ale is the more bitter and hoppy version of the classic pale ale. IPAs are often golden in color and have a stronger flavor as well. Subgeners include West Coast IPAs which are very hoppy, New England or "hazy" IPAs that are fruitier and cloudier in appearance, plus even stronger versions like the Double or Imperial IPA.
• Lagers: Hailing from Austria and Germany, lagers continue to be one of the most popular styles in the world. They are generally light, bubbly, and with a very subtle malt and hop flavor. These beers are overall very refreshing, and they can range from light to dark, from smooth to bitter, and with a gentle wheat or fruity aftertaste. They're great for warm weather as well since they're both light in taste and alcohol content!
• Stouts: Stouts are usually black in color, full of malt, and have a roasted aftertaste that enhances the flavor. Certain craft breweries may make special blends with oats, milk, chocolate, plus coffee or espresso.
• Dutch/Trappist Beer: The Netherlands is full of amazing historical beers that are worth seeking out today. Styles such as Dubbel's and Tripel's were popularized by ancient monks, and these beers are often referred to as Trappist beers. Many classic Dutch beers have a wonderful fruity-wheat taste along with a Champagne-like texture.
Of course, there are many more styles and blends available, but the above are the most common and will help you as you dive into the world of craft beer! Don't be afraid of stepping outside of your comfort zone either. While a fresh lager may be great on a sunny day, you may also wish to try a dark chocolate stout when the weather gets colder. Try different beers for different occasions, and make sure to try something new every once in a while to keep things fresh.
Craft Beer Pairings
One exciting part of craft beer is finding new pairings with your favorite drinks and foods. While a pale ale may taste fantastic on its own, it will taste even better if you pair it with the perfect meal. Try different cheeses, meats, and breads with your favorite beers to see how the flavors compliment one another.
Unlike with wines, there's no hard and fast rule about which beers go best with which meats and foods. However, you may find that lighter colored beers go better with light meats and fish, while darker beers such as stouts work better with red meat or desserts like chocolate.
Search around and try new cheeses with your beers as well. As you expand your palate for beer, you'll likely find that your taste in foods expands as well!
Different Glasses to Enjoy at Home
Drinking craft beer from a glass, and not directly from the can or bottle, can really make a difference in the overall taste and experience. Pouring your beer into a glass will open up the flavors and aroma so you can enjoy it just as it was intended. Sniff the glass before sipping to get all the notes, and be mindful of everything you smell and taste. Over time, you'll naturally learn how to distinguish the different notes and subtleties of each beer.
While any glass is superior to a bottle or can, you can also go further by getting specialty glasses to make it more fun. Plus, certain glasses may help your beer taste even better!
Some of the most common specialty glasses include:
Pint Glass: This is the standard glass for all types of beers, although traditionally it's used more for lagers, IPAs, and other lighter beers. The American pint glass holds 16oz of fluid while the English version holds 20oz. This is the most common glass you'll find in bars and homes.


Weizen and Pilsner: Glasses for these beers are generally taller than pint glasses and with a slimming body shape. The design is used to accentuate the color of the brews while the smaller mouth encourages a stronger and more forceful aroma.


Mugs and Steins: Your standard Oktoberfest mug is designed to be held easily and enjoyed all night long! While the classic mug won't accentuate any flavors, it's a fun way to drink beer and works great during parties and events since the handle prevents you from warming up your beer.


Tulips: Hailing from Belgium, tulip glasses are similar to wine glasses and are predominately used for Belgian, Trappist, and other floral brews. The small stem prevents you from warming up the beer with your hands, and the wide mouth encourages you to enjoy the aromas before each sip.
Visit a Craft Brewery and Taproom
No matter where you live, you can likely find a great local craft brewery to visit and explore. Whether it's a longstanding brewery or one that recently opened, there's nothing better than enjoying the freshest beers right from the tap!
Some breweries offer tours of their brewing process, so definitely check to see if there are any excursions available. Many breweries also come with a restaurant attached, and it's likely they'll offer curated food and drink pairings to create an unforgettable meal. Plus, you can try a beer flight to sample all of the brewery's offerings!
Visit Craft Beer Festivals and Events
You don't have to go all the way to Munich to enjoy a wonderful craft beer festival! Look in your area for different events from small-scale beer celebrations to larger multi-day festivals. There are usually festivals in the summer along with localized Octoberfests in the fall.
These festivals are a great way to enjoy craft beer and socialize with like-minded people. You'll also find many local brewers at these festivals who can answer your questions and offer great recommendations.
Learning how to drink a craft beer is a great way to experience new things beyond the drink itself. It opens up a world of new flavors, new meals and pairings, and it can inspire you to travel as you explore new cities in search of the perfect brew. With endless options to choose from, now is the perfect time to enter the world of craft beer!
Erik V.
(this post was contributed by one of our readers, if you would like to write an acrticle for this blog reach out to Big Robb)
P.S.  If you love Craft Beer there is a great chance you would enjoy making your own.  This blog is all about homebrewing and learning how to make your own beer.  A great place to start to learn is on the "start here" page.  Also be sure to sign up for our newsletter and get our top 5 all time favorite beer recipes.  The sign up is on the side of the blog or at the bottom if you are on a smart device.  Cheers!