In today's post we are going to cover everything you need to know about how to homebrew a Dry Irish Stout. We will start with a little background on how this delicious beer came to be and then move into what it should look, taste and smell like.  Lastly I am going to give you my favorite Dry Irish Stout recipe so you can homebrew one for yourself.
So let's get homebrewing…
A Dry Irish Stout is one of my all time favorite homebrews.  I have always been a huge fan of Guinness and as a result it was one of my goals to be able to brew one.  The recipe at the end of this post is as close as I have been able to come to duplicating it (so far); if you are a fan of Guinness I think you will enjoy this recipe.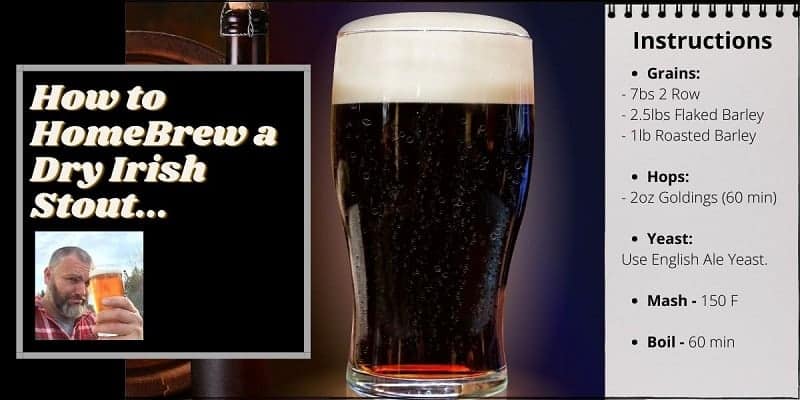 What is funny about this style of beer is that for people who have not tried it they typically think it would be a thick (full tasting) and strong beer.  Whereas for those of us Stout fans out there we know it is the complete opposite.
A dry Irish Stout is a light bodied but nicely flavored beer that is low in alcohol (typically 4 – 5%).  It is not hoppy, but neither is it overly malty; it is perfectly balanced with a creamy mouthfeel and a slight coffee or caramel aroma and taste (but not overly so).
Many people consider it a winter beer, however it is just as good consumed cool (not cold) in the summertime and is deliciously refreshing.  You could in fact call it the original session beer.
For homebrewers the really great thing about this beer is that it is easy to brew.  It is very hard  to mess up.  You use only 3 grains and 1 hop with 1 hop addition.  It is a great beer to get practice brewing with, you can go from grain to glass very quickly and as an added bonus it tastes delicious.
Short History Lesson
Besides it's appearance perhaps part of the reason people often believe a Stout is a strong beer is back in the 1700's that is exactly what the term meant i.e strong beer.  It was typically used to describe a stronger Porter.  They would call them Stout Porters.
The term Stout was also used to describe other styles of beers that were stronger, such as Stout Ale's.  Maybe this meaning has stuck in our consciousness over the years.
It was sometime in the early 1800's that Stouts started emerging as their own style of beer instead of being considered a strong Porter.  They started using more brown malt and larger amounts of hops then a Porter would.
The stouts brewed in those days are not the stouts brewed today and you would not recognize them as being anywhere near the same; this is because it was not until the early 1900's that Roasted Barley started to be used more widely in their brewing process, which completely changed the style.
Of course Guinness is the most well known example of this style of beer.  Having been first brewed over 250 years ago in Dublin Ireland at the Guinness brewery at St. James Gate.  If you ever have the opportunity to visit their brewery I highly recommend it; the Dry Irish Stout served there is the best I have ever had by far.
How it Should Look (Appearance)
If you are using Guinness as the criteria to gauge what it should look like, then it needs to be jet black in color and the head should be a very long lasting creamy white.  This is exactly what it looks like when you get a pint served fresh from St. James Gate.
Having said that, I have never been able to replicate the creamy white head and any Guinness or other stout for that matter; that I have tried at home here in North America has a more tan colored head.  However it is still creamy and long lasting.
What it's Mouthfeel Should Be Like
It's mouthfeel is nice and smooth which is surprising to most people first trying this beer; due to the color most expect it to be a harsh beer where in fact it has a creamy and has a full feel to it that goes down very nicely.  The mouthfeel could almost be described as being velvety. The carbonation is lower on this beer.
What it Should Smell Like (Aroma)
It will have a slight coffee smell to it, which is from the roasted barley used in the brewing process.  Some versions may have a chocolate aroma.  There is very little to any hop aroma or graininess present.
How Does it Taste (Flavor)
It will have a very slight malty sugariness that has a hint of a caramelized flavor.  You will also notice a small coffee-like flavor.  As you will see in the following recipe roasted barley is one of the ingredients used which provides for a slight roasted flavor as well.
All of these flavors combine to create a nicely balanced taste that is topped off by the subtle creamy & soft taste it is known for.
Ingredients Used to Brew a Dry Irish Stout
The most important step in knowing how to brew this beer is knowing which ingredients to use and why…
Grains to Use
Roasted Barley is the must use grain in any homebrew stout recipe.  It provides for so much of what makes up this beer to include the jet black color, the creamy white head and of course the slight taste of coffee.
Most recipes will have Roasted Barley making up approximately 10% of the grain bill.  The recipe on this post has it at 9.5%.  Some recipes will use black malt instead,  I do not recommend this, but this is homebrewing so if you want to try it give it a shot.
To get the full-bodiedness that Irish stouts are known for, flaked barley is used.  Many stout recipes will have flaked barley making up 10% of the grain bill  The following recipe has it at 23%.  I like the result but it does raise the ABV up from a low 4% to around 5%.  If you want to brew a stout that is closer to 4% simply reduce the flaked barley from 2.5 lbs to approximately 1lb.
The base grain is a pale malt.  Most recipes would call for an English pale malt such as Maris Otter.  I've used it many times and really like the result.  However in this recipe I simply use American 2-Row.
Hops to Use
There is one bittering hop addition at the beginning of the boil.  Without a doubt you need to use a traditional English hop.  9 times out of 10 it will be East Kent Goldings.  However other English hops such as Target, Fuggle or Challenger will work also.
American hops are not recommended if you are looking to homebrew a traditional Dry Irish Stout.
Yeast to Use
Many brewers will use and Irish Yeast, which is typically sold in liquid form.  However this website is make beer easy and in tune with the easy theme I typically use a dry yeast such as US-05, S-04 or Nottingham Ale yeast.  All of which have worked great with this recipe.  My go to is the S-04 however.
Dry Irish Stout Recipe
As I indicated earlier on in this post one of my main goals was to be able to homebrew a Dry Irish Stout that tasted as close to possible to Guinness, the following recipe is as close as I have gotten to being able to do so; and if I do say so myself it is pretty darn close.
I call it "The G2", you do not have to be a rocket scientist to figure out why!  I trust you enjoy this recipe.  If you brew it or have questions on how to do so feel free to let me know in the comment section.
SRM: 25.06
Target OG: 1.046
Target FG: 1.010
ABV: 4.62%
IBU: 40.49
Pre Boil Volume: 6.5 gallons
Fermenter Volume: 5.25 gallons
Brewhouse efficiency of 65%
Grains
7 lbs 2-Row (or Maris Otter)
2.5 lbs Flaked Barley
1 lb Roasted Barley
Hops
2 oz East Kent Goldings (60 min)
Yeast
Any English or Irish ale yeast will work well.  I prefer to use dry yeast due to its ease of use and the two I prefer to use for this recipe are:
Safale S-04
Nottingham Ale Yeast
Instructions
Mash for 60 mins at 150 degrees Fahrenheit
Boil for 60 mins
Add the 2 oz of East Kent Goldings at the start of the boil i.e. the 60 min mark.
Add the chilled wort to your fermenter and pitch the yeast.
Ordering Ingredients
If you typically order your ingredients online and would like to support this site I have put together a list of all of the online vendors I recommend.
When you order ingredients or equipment through them they provide Big Robb with a referral fee at no extra cost to you.
It's win-win for you and I.
You get your ingredients for the same or better price than elsewhere and Big Robb gets paid a few pennies that help keep this site up and running and perhaps the odd pint of beer!
Appreciate your support my friend!  Cheers
You can see the list of vendors and order your ingredients for this recipe here!
Additional Resources
Now clearly this recipe is an all grain homebrew.  If you need help learning how to make all grain beer I have put together a list of "How To" guides and videos to help you out.
They cover pretty much every topic you could imagine, such as:
How to clean your equipment
How to sanitise your gear
How to mash in
How to crush your grains
How to clear your beer
Water chemistry
Etc…
You can check out these free guides here!
Brewing Equipment
Now lastly if you have never made all grain homebrew before you are going to need to get yourself some brewing equipment.  I personally use and recommend the All-In-One Brewing systems.
I brew on them because they are the easiest systems to work with, their cost is very low, clean up is a breeze and they make incredible tasting beer.
You can learn all about how they work on this post here:
All-In-One-Brewing-Systems why they are the best
If you want to get one for yourself you will find the 4 systems I recommend here!
There you have it my friend you know now how to homebrew a Dry Irish Stout.  If you have any questions on how to do so feel free to leave a comment and I will be sure to help you out.
Good luck and let me know how you make out.
Now go get your brew awwwn…
Big Robb is out!
P.S. Do you like this recipe?  Want to get free access to my top 5 all time favorite recipes?  Sign up on the side of the blog (or bottom on a smart device) to get access to all 5 now.  Cheers!