Most homebrewers are at least vaguely familiar with a hydrometer and will over time add it to their list of home brewing equipment. It is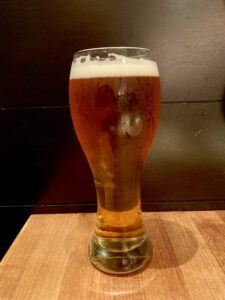 popular among brewers as it allows us to measure the gravity, and track the fermentation to allow us to know when the beer has finished fermenting. However, for a new person just getting into brewing it can be a bit complicated to figure out how to read a hydrometer and how to use it correctly.
Plus as hard as this may be to hear, many people who have been brewing for years have actually been using the hydrometer wrong and do not even realize it.
So today we are going to dive into this subject. We will review what this tool is really intended for and how to get the proper readings from it.
Specific Gravity, What Exactly is it Really?
OK before we get into exactly how to use this tool, I think it makes sense to make sure we understand exactly what it is that it is measuring. I.e. Specific Gravity. We have all probably heard this term before. But what is it really?
A proper definition of Specific Gravity would be something along the lines of it being the measurement of the density of a certain liquid at a specific temperature & pressure.
When it comes to home-brewing the hydrometer is used to measure the number of sugars that are dissolved in the wort and then in the final product i.e. the beer; as compared to water.
Water as long as it is pure will have a specific gravity of 1.000. So what happens is that the gravity of the liquid increases as sugars are added to it during the brewing process.
At the end of brew day before pitching your yeast you will take a gravity ready. This is called the original gravity or OG. Most recipes you use will tell you want your OG will be.
Besides being important to help you calculate the ABV at the end of fermentation, the OG will also allow you to determine how successful your brew day was. Did you reach the gravity reading of your recipe? Taking the measurement allows you to fine tune your brewing set up and practices. Meaning if you did not reach your OG then you know you need to make some changes for next time.
Most beers will have an original gravity of somewhere between 1.030 – 1.070. With some stronger beers going even higher.
Next what happens is after what is referred to as active fermentation has finished. I.e. all of the action in the fermenter that you can see with your eye has come to an end; a brewer then takes another reading with the hydrometer.
He/she then waits another 24 hours and takes another reading. If the two readings remains the same then you can feel confident that the fermentation is over. This last reading is referred to as the final gravity or the FG.
We then compare the OG with the FG to determine the ABV (alcohol by volume) which is a fancy way of saying the alcohol percentage of the beer.
One quick tip… when you hear someone say the gravity is "ten forty" that would mean the reading was actually 1.040. It is easier than saying "one point zero four zero" and is how most brewers express the measurement.
Using the Hydrometer
As a home brewer we actually have three tools we can use to take our gravity readings. A sacchorometer and a refractometer; however they hydrometer is by far the more popular of the three and the easiest to use.
When you get down to it all that really is involved in using one is placing it in the liquid you want to measure and where the surface of the liquid itself meets the readings on the hydrometer is the measurement you will use.
That really is all there is to it…
You simply take your gravity readings at the end of brew day and just before adding the yeast to the fermenter (OG) and then again after all signs of active fermentation has stopped (FG).
When doing so I would recommend not taking any more of the liquid sample as needed to get your reading. Get the amount you need once and stop. Do not take a second sample. This is because when you open up your fermenter and take a sample you are taking a risk. Meaning bacteria can get into the fermenter and contaminate your wort or beer.
If you are careful with what you are doing, and ensure you are using sanitized equipment to take your sample and only take one sample you will greatly reduce the chance of contamination and will be fine.
You can click here to go to a post where I show you exactly how to sanitize your equipment correctly so as not to ever lose a batch
And here is a post where I reveal the cleaning and sanitizing products I use and recommend. 
Most people either take a sample from the spigot on the bottom of the fermenter if your fermenter has one or they use a turkey baster or a siphon. Again make sure these are sanitized with StarSan before introducing them to your wort/beer.
Pour your sample into a container that will be large enough to permit the hydrometer to float without touching the bottom of the container or its sides.
Most hydrometers that you purchase come with a container that looks very much like a test tube and this will work perfectly.
Once your wort/beer is in the container you then gently place the hydrometer into it. Now gently give it a little spin. This will allow it to oscillate and then eventually slow down and settle. Now you can take your reading.
Again where the surface of the liquid touches the markings on the hydrometer. Make sure that it is not resting against the side of the container, when you are taking your reading you want to make sure it is floating freely on its own.
Another important and obvious tip for you… when you are done taking your reading DO NOT pour the sample back into your fermenter as this will contaminate the beer. Dispose of it down the drain. You can of course taste the liquid to see how your beer is going to end up tasting.
How to Read a Hydrometer
OK so one would think that taking the measurement is just a simple matter of taking note of where the surface of the liquid meets with the reading on the hydrometer. This is actually not 100% correct and there is a little bit more to it. And most people who take an incorrect reading make this mistake.
If you take your reading here there is a good chance that it will be too high.
If you are taking your reading here you are actually taking your reading at the top of what is referred to as a meniscus. Which is basically not quite a bubble in the liquid but looks like one. It looks like it is hugging the shaft of the hydrometer and if you look closely you will notice that the top of it is actually higher than surface of the liquid in the vial. This meniscus forming is common in containers like a test tube.
What you want to do is look for the true surface of the liquid. Look down the meniscus towards the bottom of it and take your reading from there. Next time you take a reading look carefully and you will see that the reading from the top of the meniscus is a few marks higher than the reading at the bottom.
Do You Need Calibrate Your Hydrometer
Nowadays I find that the hydrometers you buy tend to be quite accurate and I have not had to worry about the calibration being off in a long time. I also do not worry too much about the actual temperature of the liquid before I take the measurement. I find that the temperature the liquid was at during fermentation provides a fairly accurate reading.
However, it is important to understand the process in case your readings are off. The instructions that come with your hydrometer will explain exactly how to do this. When you calibrate your hydrometer you will do so in a certain temperature liquid. Older ones for example are typically calibrated at around 60 degrees F whereas the new ones are done so at around 65 – 70 degrees F.
So when you are taking a measurement of your liquid the goal is to strive to have the liquid at the calibration temperature in order to get an accurate reading. Again I find the new hydrometers seem to work great with the typical fermentation temperature of home brew, at least Ale's that is. And I simply do not worry about it. This is make beer easy after all.
However, if you want to get very exact and precise, either bring the liquid into the temperature range indicated in the instructions OR you can use a chart designed to correct for the temperature. These come with most hydrometers or you can do a search online for these type of charts.
If you want when you first buy your hydrometer you can check the calibration of it to make sure it is accurate. This is done simply by taking some distilled water, heating or cooling it to the temperature that your hydrometer calls for it to be, pouring it into the container you are using for measuring and placing the hydrometer within and taking a measurement as described above.
If it reads at 1.000 then it is correctly calibrated and you are good to go. If it does not read 1.000 then is off. Personally if it is new I would return it and not play around. If you are really adventurous you can look into ways to correct the calibration. I personally would not bother. Some people will tell you to take a file and shave off some of the glass from the bottom of it.
That is not Making Beer Easy in my opinion and I would just get my money back and get a new one. I have personally never had a problem with a hydrometer and I doubt you will either. They are a pretty simple tool that works well.
In Conclusion
And that is it my brewing friend. I trust you enjoyed this post and found value from it.
The bottom line is this is a very handy tool for making beer, and one that if you are serious about brewing good beer I would recommend that you invest it. They are not expensive and having one will really help you dial in your beer making.
If you use one and adjust your brewing process and dial in your equipment based on the readings you take you will definitely see an improvement in the quality and taste of your brews.
If you have any questions on How to Read a Hydrometer feel free to reach out to me. Drop a question in the comment section below and I will be sure to do my best to help you out.
Cheers and brew awwnnn…
Big Robb is out!