Home Brewing your own beer to put it simply… Freaking Rocks! It is by far one of the best hobbies you could ever engage in. And waaaayyyy better then collecting stamps.
If you are just getting started in your home brewing adventure or have been around a while and are looking to improve on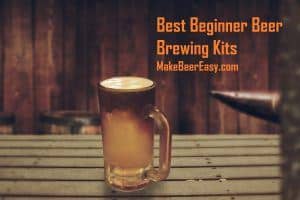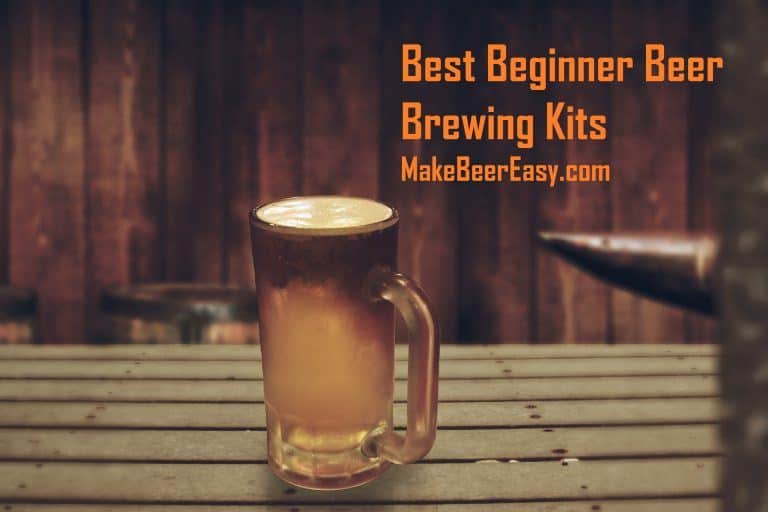 your skills this post is for you… We are going to take a look at what I consider the best beginner beer brewing kit… and then we are going to look at 2 simple ways to improve on the kit and make better tasting beer!
So let's get at it…
A question I get asked on a regular basis is… what are the better kits… are all kits created equally? Do some kits make better beer then others?
Well the simple answer is yes… some beer kits are simply better then others…
I have tried pretty much all of them… and there are definitely differences in the quality and taste between the different kits you can get from the different companies out there.
So What Are The Best Brewing Kits?
There are numerous types of Home Brewing Kits out there… there are different brands… and different flavors… and there are even kits for beginner, intermediate and advanced brewers…
….most homebrewers all typically start out with the good ol'Can of goo…
…a Can of Goo is my pet name for the prehopped Malt Extract beer kits…
Whether it is a Mr Beer kit, Coopers Beer Kit, Brew Canada, Muntons, etc…
Before I reveal my favorites out of the bunch… it is important for you to understand what happens to the typical person who first starts brewing… it is important to understand this so that this does not happen to you…
Where most people have a bad beer making experience… I want your experience to be great from the start…
Here is What Happens to Most People
They pick up a home brewing kit along with a beer brewing starter kit (fermenter, bottles, tubes, etc)…They slam the Can of Goo into the fermenter add some water, slap in the yeast and believe they are off to the races!
They wait about 1 – 2 weeks… slam the uncarbonated beer into some bottles add the priming sugar… MAYBE wait 1 week… crack open a bottle… and immediately either:
Spit it out!
Or out of pride pretend it tastes great and slowly sip it down and never open any more of the 40 bottles they brewed…
So most people quit here… they figure they are simply not cut out for making beer and give it up…
And its a shame… because in reality it was not their fault… they just did not understand how to make good beer from the kit… (and yes there is a way)!
While some quit… others do stick it out and try to figure out how to improve on their beer brewing kit in order to make at least drinkable beer. This is what I did… in Canada buying beer costs about as much as buying a house… so I was stubborn and determined to figure out how to make beer I would enjoy…
Some will blame it on the kit itself and start goggling the hell out of the internet with searches like "how to improve a beer kit" of "best beginner beer brewing kit", etc…
And like me these are the people who finally figure out how to make good beer at home…
How To Make A Kit Taste Good
Making good tasting beer at home is not hard… you just need to know these two simple methods to make a beer kit taste better…
=> 1) Time… here is where most people go wrong. They make their first batch and are as excited as a fat kid in a candy store to have their first taste! So they give the beer about 1-2 weeks to carbonate and condition.
This is nowhere near enough time for a can of goo. You MUST give the beer made from these beer kits at least 1 month to condition (age)… and preferably 4 months… if you do this you will have as good of beer as you would ever buy in the beer store from the large macro breweries.
You might be saying… what are you talking about Robb… I have to wait 1-4 months to drink my brew? I hear ya and feel your pain my friend… the trick here is to get on a schedule… start brewing once or twice a month… put the homebrew aside to age and after your first month you will always have a tasty beverage on hand!
Trust me the 1-month wait is worth it!!
=> 2) Choose the right kit from the start…
As I said from the start not all kits are created equal…
Some are simply better then others… in my experience the best beginner beer brewing kit is made by Coopers and / or Mr Beer.
Coopers has been around since Moses wore short pants (meaning a long ass time)… Coopers purchased Mr Beer a few years back and has improved their kits tremendously… so both are good choice!
These kits do still need time to condition (age)… but the end product is better then the rest.
And both Coopers and Mr Beer have starter kits that come with all the equipment you need to start brewing:
Fermenters
Hydrometers
Beer Bottles..
And if you pick up either of their starter kits they come with the ingredients to brew your first batch.
So which one would I recommend? I have both… but it depends on how big of a batch of beer you want to brew…
The Coopers DIY kit brews 5 – 6 gallon batches and the Mr Beer Homebrewing Equipment Kit makes 2 gallons…
I did a review of the Coopers DIY Kit you can read here:
Where to Buy The Coopers or Mr Beer Starter Kits?
If you are ready to pick up your own starter kits amazon and adventures in homebrewing are both my go to places…
Adventures in HomeBrewing:
Amazon:
These Two are My Favourite Cans of Goo
The starter kits come with the ingredients… but if you already have all the brewing equipment you can obviously order the cans of goo (beer kits) on their own…
Coopers and Mr Beer both have a large selection of different types of beer you can brew…
My personal favorite from Coopers is their Real Ale…

And my favorite Mr Beer is their American Ale…

(obviously Big Robb is a Pale Ale Lover… however they have pretty much any type of beer you would want to brew… to include, lagers, stouts, ipa's, reds, pale ales, you name it they will have it!
Amazon carries a large selection of their different brands:
Coopers Beer Kits on Amazon
Mr Beer Kits on Amazon
Give Yourself Time
I hope you enjoyed this post my friend… in the end as long as you follow my two pieces of advice… i.e. give the beer time to age and use what I consider to be the best beginner beer brewing kits (coopers & mr beer) you are going to make some nice beer!
If you would like some further help brewing your first batch… feel free to drop me a comment below with any questions you have and I will be sure to help you out…
If you have never brewed before you may want to check out the following post… it will help walk you through the process and make sure you do not screw it up! lol
Cheers!
Big Robb is Out!