When searching for a Brown Ale Recipe you will find that recipes for this style of beer are going to be quite diverse and can vary significantly from one to the other. This is because a brown ale is not an easy beer to define, there are 3 distinct styles for this beer, Northern Brown, London Brown, and American Brown, with many different recipes and variations of each, as well brown ales are now brewed in many other regions of the world and each region puts its own unique spin on their recipe using local ingredients and producing versions with varying alcohol percentages.
It's a fascinating beer with a deep history and at one time it was by far the most common form of beer. In this article although we are not going to dive into the history of this style of beer if you are interested it in we have covered it in a previous post simply called Brown Ale; instead in this article, we are going to focus on providing you with a traditional brown ale recipe, explain how to brew it as well as provide you with tips on how to make your own recipe.
Brown Ale Recipe Characteristics
Color wise this recipe will produce a beer that is a darker shade of amber to reddish brown. It will be a clear beer with a medium off-white almost tan head.
It will have a slight malty aroma that will highlight hints of chocolate, carmel, toffee, and nuttiness. The hops will also provide a light aroma consisting of floral and earthy notes, unlike the American version of this recipe not much if any fruity aroma will be detected.
The body and mouthfeel of this recipe will be medium and its carbonation level will be medium-high.
Like its aroma, the taste of this beer will be malt focused and the sweetness from the malt will be present although not overbearing. Flavors of biscuit, carmel, toffee, light chocolate, toasty, and nuttiness may be detected.
Being a malt-forward beer it is not an overly bitter beer but rather has more of a medium to low-bitterness level and not much if any flavors from the hops will be detected, if some are they will be of an earthy or floral nature, and very little if any fruity flavors should be detected.
Tips to Brew a Brown Ale Recipe
We are going to provide you with a recipe however if you are interested in creating your own or modifying our recipe then use the following tips as a guideline to do so…
Grain Bill
To start with you will want to use a British pale malt, we prefer Maris Otter as it will provide the desired bready and toasty flavor and is also slightly darker than American 2 row.
For specialty grains, crystal malt is almost always used and makes up between 10 – 15% of the grain bill. Some will use Crystal 80L and higher, however, we recommend staying between 45 L – 60 L. Chocolate malt is also typically used but no more than 5% of the grain bill.
You will find Victory malt used in many recipes and from time to time roasted and black malts are used very sparingly at no more than 1-2% of the total grain bill. Some brewers feel the need to add a combination of other specialty grains such as wheat malt, oatmeal, aromatic malt, special B, etc, however, we tend to keep our grain bill in brown ale recipes to 3 – 5 grains total.
Hops & Schedule
Traditionally this style of beer does not have any hop aroma and fairly low levels of bitterness, with just enough to balance the sweetness from the malt, with the IBU range typically being between 20 – 30.
Most traditional recipes will use traditional British hops such as Northern Brewer, East Kent Goldings, Fuggles, Northdown, and Challenger.
Many recipes will only have a bittering addition at the start of the boil, 1 oz of any of the above hops will work well. If you want a little flavor and aroma from the hops then 0.5 – 1 oz can be added towards the end of the boil or at flame out.
Of course, if you are brewing the American version you will increase the amount of hops and change the variety you are using. Amount wise will be almost double that of the English version and for variety Cascade, Willamette and Perle seem to be the most popular, however, any type of hop you prefer can be used. With these beer recipes, the hops are added at varying stages of the brewing process, including dry hopping.
Yeast Strain
Most British ale yeast strains will do the trick; you are looking for a strain that will provide a low level of esters and has a moderate attenuation. We prefer dry yeasts in our recipes and use Safale S-04 or Nottingham ale yeast.
Brown Ale Recipe
We call this brown ale recipe "Down Town Brown", why? No other reason then besides it rhymes.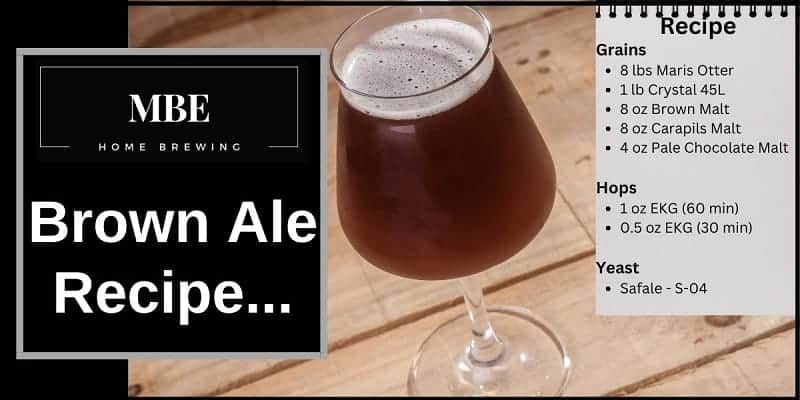 Batch Size: 5 Gallons
OG: 1.048
FG: 1.012
IBUs: 25
ABV: 4.8%
Malt/Grain Bill:
8 lbs Maris Otter
1 lb Crystal 45L
8 oz Brown Malt
8 oz Carapils (dextrine) Malt
4 oz Pale Chocolate Malt
Hop Schedule:
1 oz East Kent Goldings (60 min)
0.5 oz East Kent Goldings (30 min)
Yeast:
Fermentis – Safale – English Ale Yeast S-04 (or your favorite English ale yeast)
Recipe Instructions:
Mash your crushed grains in 152℉ water for 60 minutes. Remove grains, and sparge with 168℉ water, bringing the kettle up to your pre-boil level. Boil wort for 60 minutes, adding hops as per the above schedule. Once the boil has completed cool the wort down to yeast pitching temperature, transfer it to your sanitized fermenter, and pitch your yeast. Let ferment for 10 – 14 days. Cold crash for 48 hours, package, and carbonate.
Last Call
If you have any questions when brewing this brown ale recipe feel free to reach out to us, also if you do brew it let us know in the comments how it turned out for you. Enjoy.
P.S. Be sure to pick up your gift of Big Robb's top 5 favorite beer recipes from his brewpub, details are on the side of the blog or at the bottom if you are on your phone. Cheers!