Brewing your own beer is a fun and enjoyable hobby many people worldwide enjoy. However, if you are starting out in this hobby, you may have many questions about the brewing process. The most common question we get asked by newbies is, "how long does it take to brew beer?" In this article, we will walk you through the entire process and review the timelines for each step, including the brew day itself, fermentation, and carbonation.
Understanding the Brewing Process and Time Involved
Brewing beer is a complex process involving several steps, each with specific time requirements. From preparing the ingredients to fermenting the beer, every step plays an essential role in determining the taste and quality of the beer.
Preparation and Setup: Time Required to Get Started
Before brew day even begins, it's vital to make sure you have all the necessary equipment and ingredients. This includes selecting the proper malt, hops, and yeast and setting up your brewing equipment. Depending on how much experience you have and how complex your brewing system is, this part of the process can take anywhere from a few hours to a few days.
The Brewing Process: Understanding Each Step
The actual brew day, where you make your beer, can take several hours, with each step requiring a specific amount of time. This includes the mash, boil, and cooling processes; again, depending on your recipe and equipment, this brewing process can take four to six hours.
Fermentation and Aging: How Long to Wait for the Perfect Beer
After the brewing process, the beer must ferment and age. Fermentation usually takes about one to two weeks, with some beers requiring longer.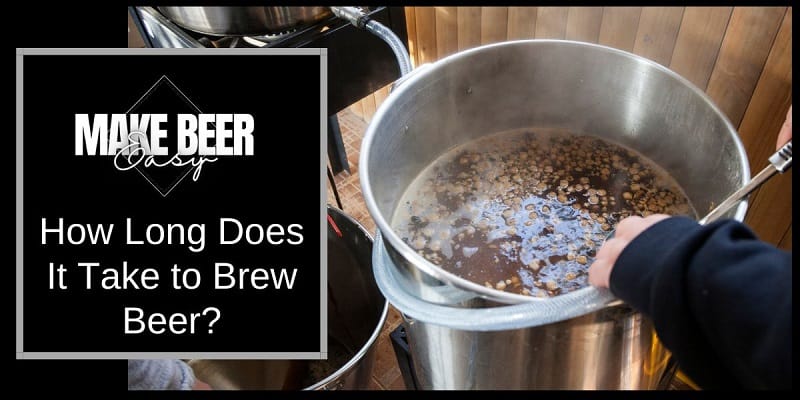 Depending on the style of beer you are making, you will age your beer for a few days or several weeks and even months.
Carbonating Beer: How Long Does it Take to Bottle or Keg
After the fermentation and aging process has finished, the next step in the process is to carbonate it. Carbonating beer involves adding carbon dioxide (CO2) to it, which gives it its characteristic fizziness and head. There are two main methods for carbonating beer: bottling and kegging.
Bottling Beer: After the beer has finished fermenting, it is transferred to the bottling bucket, to which you will add a small amount of priming sugar to. The priming sugar will react with the remaining yeast in the beer, creating a small amount of CO2. The beer is then bottled and sealed with a bottle cap. The bottles are left at room temperature for one to two weeks, allowing the yeast enough time to consume the sugar and creating enough CO2 to carbonate the beer adequately.
Kegging Beer: Some brewers prefer to carbonate beer in kegs. With kegging after it has finished fermenting, the beer is then transferred to a keg and pressurized with CO2 gas. The pressure forces the CO2 into the beer, carbonating it. The keg can be tapped, and the carbonated beer can be served immediately.
The time it takes to carbonate your beer will vary depending on three main factors; the temperature of the beer, the amount of priming sugar you use, and the amount of pressure applied during kegging. However, typically it takes one to two weeks to carbonate beer in bottles and one to three days to carbonate beer in a keg. However, it's important to note that different beer styles and personal preferences can affect the desired level of carbonation because some beer styles call for more carbonation than others, and people enjoy varying carbonation levels in their beer, making it a personal choice.
Last Call
Although brewing beer is enjoyable and rewarding, making good beer requires time and patience. On average, it will take 4-6 weeks to brew beer at home from start to finish, which includes the time needed for fermentation, conditioning, and carbonation.
If you are new to brewing, remember to follow the instructions carefully, and as tempting as it is to do, don't rush the process. The key to a good brew is to give the yeast enough time to work its magic, let your beer condition, and mature to develop its flavors. While it may be tempting to taste your beer early, you will be rewarded with an excellent beer if you wait until it has fully matured before trying it.
Overall, brewing beer is a fun and rewarding hobby that can save you money in the long run. By getting the answer to the question, "how long does it take to brew beer" you are now prepared to create delicious and unique brews that you and your friends will be sure to enjoy!
P.S. Be sure to pick up your gift of Big Robb's top 5 favorite beer recipes from his brewpub; details are on the side of the blog or at the bottom if you are on your phone. Cheers!