In today's post we are going to dive right into the topic of Kegging Beer!
Should you do it? What's involved with kegging? Is it worth your time? How do you keg beer?
We will tackle all of these topics and more.
Like most home brewers I started out bottling beer. And to be very upfront with you I find that bottled homebrew and craft beer for that matter actually tastes better… I simply like bottled homebrew better!
When you bottle beer you are actually Naturally Carbonating the beer with sugar…
Which I do find that using sugar verses carbonating with co2 gives the beer a fuller mouth feel and more flavorful taste…
You can actually have the best of both worlds… the ease of kegging and the better taste of naturally carbonating your beer… because you can actually naturally carbonate in a keg… which we will cover further in this post.
Here is a quick video where I do a little experiment and do a taste test of a homebrew that I bottled AND kegged. I see which tastes better: VIDEO
Advantages of Kegging Beer
So it goes without saying that obviously the major advantage of kegging beer is the time and convenience factor…
We all know how long a process bottling can be… first you need to clean the bottle thoroughly which can be a bit of a challenge depending on the beer you had in them previously…
… Then you have to sanitize the bottles
… Then of course you have to fill each of the bottles with your new beer, which is time consuming and messy as hell… most batches of beer will require around forty 500ML bottles… that's a shite ton of bottles to get ready.
… and of course part of filling the bottles requires that you prime the wort with carbonating sugar… dextrose, etc… Yes you can use Coopers Carbonation Drops which are a great time saver.
… Then you have to have a place to store 40 bottles of beer… and if you love brewing like I do then you will probably need to store a lot more then 40 bottles as you will have another batch brewing before long.
…AND it takes a good 10 – 14 days for your beer to be fully carbonated. And who wants to wait that long to try the brew?
Whereas with kegging you only have to clean, sanitize and fill the one container (keg)… AND the brew can be fully carbonated in as little as 48 hours!
What Big Robb Does
Ok so I told you I like bottled beer better… but kegging is so much easier… so what do I do?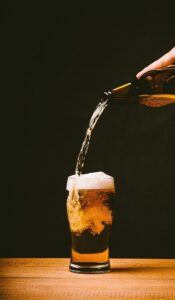 I make a 6 gallon batch of beer…
I keg 5 gallons… and then I bottle the remaining gallon of beer in about four 1 liter bottles.
So I get the best of both worlds… the ease and convenience of using a keg and I still get to enjoy a few bottles of naturally carbonated beer.
Equipment Needed
Ok… so what do you need to get A'Kegging?
At first kegging does seem daunting, but once you put it all together it is quite a simple process and the equipment you need is quite basis and easy to use.
Adventures in Homebrewing is a great place to pick up all of the equipment you need.
=> So to start you obviously need the Keg itself. For homebrewing I highly recommend Cornelius kegs. They are easy to use, simpler to clean and much less expensive than Sanke's. Cornelius kegs are basically old pop (soda) kegs… you can get Pepsi or Coke kegs. They both work great, the only difference between them is the posts. Don't worry to much about that.. it just means you will either have kegs that have fittings for Pin Locks or Ball Locks. So make sure you pick up the correct fittings depending on the keg you purchase.
=> Then you will need to get a co2 tank. I originally picked up a 5lb tank. I regretted this and recommend a 20lb tank. The price to buy one is not much difference and where I get my tanks filled up with co2 the price is the same to fill a 5lb as it is a 20lb.
=> A regulator
=> A 4 – 5' Gas Tubing (line) for the co2 to travel from the tank to your keg. (with hose clamps)
=> A 5 – 6' Liquid (Beverage) line for the beer to travel from the keg to your glass! (with hose clamps)
=> 1 Gas and 1 Liquid disconnect (pin lock or ball lock depending on which type of keg you buy)
=> 1 picnic tap… used to pour your beer. Most people start with a picnic tap until they are able to afford a kegerator with bar style tap handles, etc.
That's it for equipment…
Putting It All Together
Ok so the regulator attaches directly to the co2 tank (it screws onto the tank)… on the other end of the regulator you attach the red gas tubing (line)… you then attach the other end of the red gas tubing to the gas disconnect that you have already attached to the gas pin or ball lock on the keg…
… you now attach the liquid (clear) line to the other pin or ball lock on the keg… and on the other end of the liquid line you attach the tap (picnic)…
… from the picnic tap you now pour yourself a delicious homebrew! Oh yeah!!
How to Keg Beer With Co2
Ok so now that you have your equipment and have the basics of kegging beer down pat you are about ready to roll… expect for carbing up that that home brew up!
There are 3 ways you can carbonate with co2…
1) The impatient let's get this beer carbed in 10 minutes method…
Yes it can be done. I do not recommend it unless you are in a major pinch and need beer in 10 minutes!
The reason for this is that the beer does not carbonate well. It ends up more foamy then anything. But it is drinkable.
All you do is fill your keg with beer… hook up the gas line and cranked the regulator up to 40psi… lay the keg on its side and roll the keg back and forth for 10 minutes.
That's it!
2) The 48 Hour Method…
This is the how I now keg my beer. I also used this method at my micro brewery. It works well and the beer turns out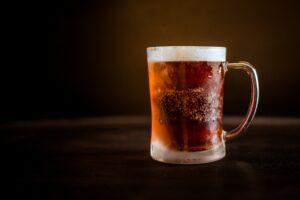 nicely carbonated.
You connect the gas line to the keg and you turn the regulator up to 30 – 35 psi and you let it sit for 24 hours.
You then disconnect the gas line and let the keg sit for another 24 hours.
At the end of the 48 hours you have a nicely carbonated beer.
3) The Slow and Steady 7 Day Method…
This is how I use to carbonate my beer and works nicely also. Some will tell you this is the best way to carbonate your beer.
Hook the gas up to your keg, turn the regulator up to 10 -12 psi and let it sit for 5 – 7 days sampling as you go. Once it reaches your desired carbonation level you are all set.
And Now You Have Beer
And that my friend is really all there is to kegging beer.
If you want to read more on kegging here is a post on did on Kegging Homebrew.
Again I recommend Adventures in Homebrewing as the place to pick up your equipment. They have a great selection and their customer service is top notch.
If you have any questions on getting started kegging your beer by all means drop me a comment below and I will be happy to help you out!
And Big Robb is out!
Cheers!