Today we are going to take a look at how to home brew a British Golden Ale.  In this post I am going to share with you what the style should look, taste and smell like, as well as giving you a British Golden ale recipe you can use to brew it up and all of the ingredients that go into making it.
So let's get at it…
A British Golden Ale is a deliciously light and refreshing beer that I very much enjoy in the spring and summer as it is nicely balanced and easy to drink; however it's name can actually be deceiving in a few ways.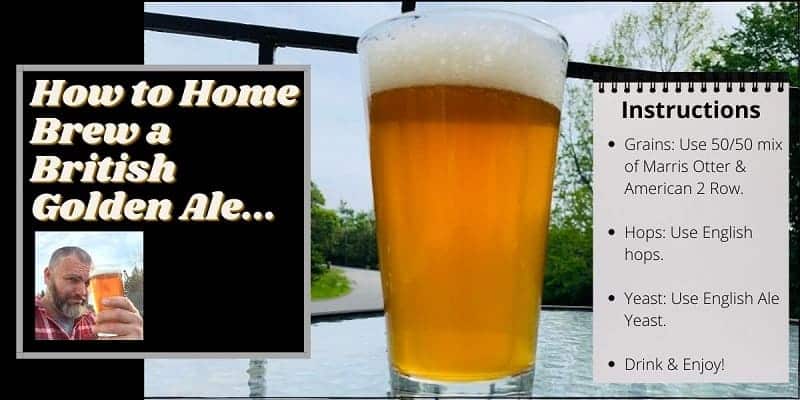 To start with, many people consider English ales to be more malt leaning with a bready or biscuity taste to it.  Now while it is true it will lean more to having a malty taste then it's American counterpart it is nowhere near as malt oriented as other English ales and it does have a noticeably higher hop characteristic.
It is often described as being hop forward and I agree that it is, however, that can also be deceiving because when most people think of a hop forward beer they think of citrus characteristics.
However, traditionally a British Golden ale uses English hops which impart more of an earthy, floral or herbal aroma compared to the citrus leaning American hops.  If you prefer American hops you can certainly substitute them and many people do.
And lastly, although it is called a Golden Ale, it is much closer in color to a Blonde, as it is a very pale colored ale.
Short History Lesson
I have heard varying tales of how this beer came to be.  Some claim that it was in response to a growing demand in the UK for more pale colored ales and lagers.  Others claim that it is simply a British variation on the American Pale ale.  Which is somewhat ironic as the American Pale ale was created as the American version of the English Pale ale.
Who really knows?  I don't and it does not matter, all that matters is it is a great tasting beer that you are really going to enjoy.
So let's get right into how to home brew this ale, what it should look like and what ingredients you need to use…
How it Should Look (Appearance)
The name is actually a little deceiving and when I first brewed it I figured I did something wrong as the color was very light, more of a straw color when I figured it should be a golden color.  However the lighter color is normal due to the grains used in brewing it.
To get a more golden color you would need to add some crystal malt; but if you do make sure to only add a little of the lighter crystals as it can change the style significantly.
The head will be white and typically not that much head will be present.
What it's Mouthfeel Should Be Like
It's a refreshing beer and not heavy at all.  It's body will typically feel light but with some recipes it will have more of a medium mouthfeel.
Depending on your preference the carbonation level could be low to medium.  If you brew it truer to its original style the carbonation would be lower.  Sometimes depending on the strength of the beer you could get a little warming feel from the alcohol but this is rare with this style.
What it Should Smell Like (Aroma)
There will be some aroma imparted from the hops that you use, not a lot but enough to be noticeable.  If you use the traditional English hops they will provide their typical herbal or flowery aromas; whereas if you use the American hops you will get the usual citrus aroma.  Because it is not a malt forward beer you are not going to get much if any malt or carmel aroma.
How Does it Taste (Flavor)
As we talked about, although it is an English ale it does not have as much of a malt flavor as most English Ales.  As a result you will only catch a slight bread or biscuit type flavor. You would not taste any Carmel flavors either.
I would personally say that the hop flavor is moderate, it is there but it is not overpowering.  If you use American hops you will get the typically citrus flavor they provide.
Ingredients Used to Brew a British Golden Ale
Alright let's get you started brewing this delicious ale, the first step is of course choosing what ingredients you want to use.
The following is what I recommend…
Grains to Use
It is an English beer so I highly recommend an English pale malt; Marris Otter in particular, however, too much of it will provide more of a biscuit or bread taste then we want.
The solution is to split your grain bill between Marris Otter and American 2-Row or even Pilsner Malt.  This way the flavor produced by the MO is diluted.
The recipe I give you below uses the same amount of MO and 2-row with a little bit of white wheat to help with head formation and add a little texture to the beer.  You will see some recipes using flaked corn for this purpose.
As stated previously it is best to stay away from the higher colored crystal malts, although some of the lower colored options can be used to get more of a golden color.
Hops to Use
Because a British Golden Ale is known to be more hop leaning than most other English ales this might lead the novice brewer to expect it to be similar to an American "hoppy" beer.
Although it does have a strong hop profile it is as a result of the use of traditional English hops which are far less pungent and produce more earthy or flowery characteristics.
Now having said that there are many home brewers who are now using the American citrusy hops when brewing this beer.  Hops such as the popular Mosaic, Galaxy, Citra and Cascade strains.  Personally I prefer the traditional English varieties for this style of beer.
Yeast to Use
This is where you can really play around.  It will really surprise you how changing the yeast you use will change the taste of your beer.  I always recommend to brewers that if they want to tweak a beer recipe start with only changing the yeast.
One of my favorite craft breweries makes a really tasty British Golden ale.  They were brewing it one time and they did not realize they were out of the typical English yeast strain their recipe calls for, so they switched it up and used an American yeast strain.
This resulted in a completely new beer, you could not tell it was anywhere near to being the same beert.  It turned out so good they now have both beers on tap and the only difference in the beer is the yeast.
Alright since we are making a British ale I do recommend that you use a English yeast strain; my favorites are Safale S-04 and Nottingham Ale yeast by Lallemand.
All right now that you know the ingredients required to home brew a golden ale, it is time to get down to business and brew one up, the following is an British Golden ale recipe of mine you can try…
British Golden Ale Recipe
I call this recipe Ol Goldie.
Ol Goldie is a tasty well balanced ale that I am sure you will enjoy.  If you brew it up do me a huge favor and let me know in the comments section below how you liked it, Cheers!
SRM: 4.33
Target OG: 1.045
Target FG: 1.011
ABV: 4.49%
IBU: 41.08
Pre Boil Volume: 7 gallons
Fermenter Volume: 5.25 gallons
Brewhouse efficiency of 70%
Grains
4 lbs Marris Otter
4 lbs 2-Row
1 lb White Wheat
Hops
1.5 oz East Kent Goldings (60 min)
1.0 oz Target (5 min)
1.0 oz Target (0 min / flameout)
Yeast
Really it is your choice as we discussed, my go to's are the following:
Safale S-04
Nottingham Ale Yeast
Safale us-05
You can order all of these ingredients here.
Instructions
60 min mash at 153 degrees Fahrenheit
60 min boil
Add 1.5 oz East Kent Goldings hops at start of boil (60 min mark).
Add 1 oz Target with 5 mins left in boil (5 min mark)
Add 1 oz Target at end of boil (0 min mark or flameout)
Chill wort
Add to the fermenter and pitch yeast.
Ferment at temperature between 62 – 75 degrees Fahrenheit.  ( I prefer 65 degrees)
Note:  You can order your ingredients for this recipe here.
Additional Resources
If you need help with home brewing techniques such as:
Cleaning and sanitizing your gear
Learning how to ferment correctly
Making your beer nice and clear
Chilling your beer
Cold crashing
Bottling and kegging
And a whole lot more…
You can head over here to learn these brewing techniques and more.
If you want to try more home brew recipes I have an ever growing list of recipes you can find here.
Brewing Equipment
As for the equipment I brew on, I prefer the All-In-One Electrical systems due to their great price, the great beer they make and how easy they are to clean after brew day!  There are 3 that I recommend, you can check them out here!
There you have it my friend you know now exactly how to home brew a british golden ale.  If you have any questions feel free to drop them in the comment section below and I will get back to you.
Now go get your brew awwnn..
Oh yeaahh,
Big Robb is out!
P.S. I trust you enjoyed this recipe.  Now how would you like to get Free instant access to my top 5 favorite home brew recipes of all time?  Well ask and you shall receive.  Sign up on the side of the blog (bottom if on smart device) and they are all yours.  Cheers!