Today's post is going to be for people who either are new to brewing, or have brewed a couple of beers from kits… or who simply love brewing from kits…
Today we are going to take two beer kits and up their game a bit…
Today instead of just brewing beer from a kit beer I am going to provide you with two different recipes to use with the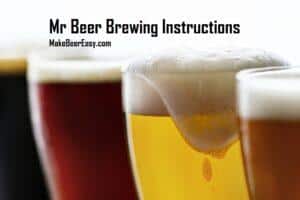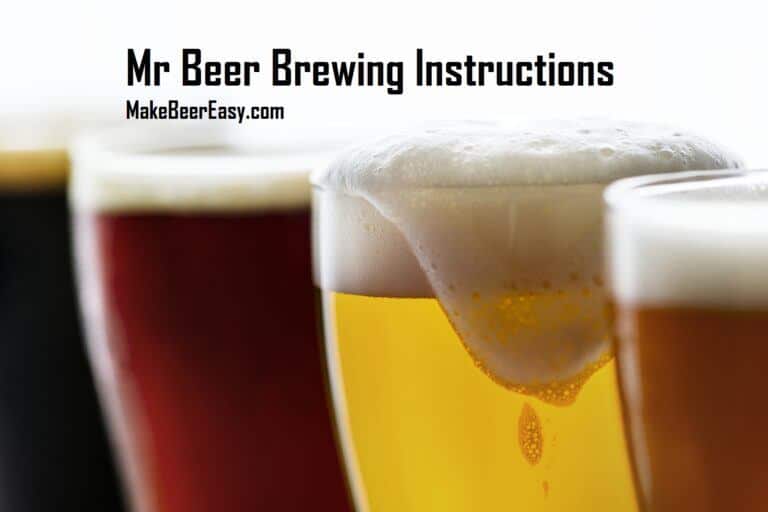 beer kit that significantly improves the beer…
The first one up that we will look at will be for you Mr Beer kit lovers…so what I am going to do is go over all the Mr Beer brewing instructions you will need as well as provide you with one of my favorite recipes to get you started…
The second beer we are going to look at is a Coopers Brew. It will produce a larger batch of beer, around 5-6 gallons. So again, just like the last one, I am going to provide you with the coopers home brew kit instructions for this beer as well as another one of my favorite recipes…
How to Improve a Beer Kit
Using these two kits with the recipes I point you to, you will avoid the mess most people find themselves in when they use just the beer kits…
What mess is that? Why Shitty Beer to be upfront!
As I have explained previously in other posts… most people screw up and make terrible tasting beer their first couple of times using beer kits…
There are for a few reasons for this…
One of which is they simply take the good Ol'can of goo (malt extract) and dump it into the fermenter, toss in some water and maybe some dextrose or beer enhancer and sprinkle in the yeast and let'er ride!
The ONLY way the resulting beer turns out good… is IF after you carbonate it, you let it age and sit in the bottle for 1 – 4 months! (the longer the better)
Any less then that you and you will not enjoy the beer.
Now don't get me wrong…
Cans of Goo serve their purpose… if you understand how to use them correctly!
Some beer kits like MR Beer and Coopers have stepped up their game big time in the last few years!
Their kits have improved tremendously and…
Recipes Can Be Used To Improve Beer Kits
They have come out with recipes and products to go along with their Can of Goo…
When you follow these recipes the results are a very good tasting beer, a huge improvement from just using the beer kit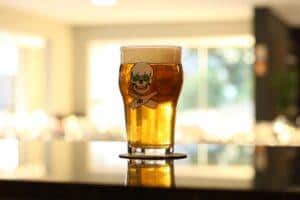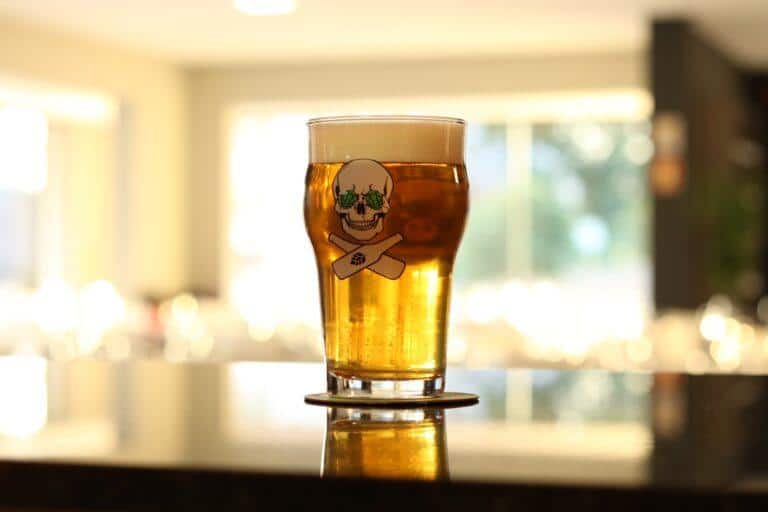 itself.
As I said before I actually have friends who love my Mr Beer and Coopers beers I make when I use these recipes!
Ok… so why are these recipes of theirs so good?
Well they add to the beer or can of goo things that I call "Add Junks"… they're actually called Adjuncts…
So what are Add Junks you might ask?
They are "things you add to your brew to improve a can of goo"!
It even rhymes… isn't that something!
The things you can add are:
• Dry Malt Extract (DME)
• Liquid Malt Extract (LME)
• Specialty Grains
• Hops
Now when it comes to specialty grains they add another level of complexity to your brew day… so for this course we are sticking with DME, LME and Hops.
I will be doing an article on adding specialty grains shortly… and when you do get to that point of your brewing expertise you are really only 1 step away from moving to all grain brewing, which I have lots of material on this site regarding… here are a few to get started with:
All Grain Brewing Instructions
But for now you are going to make some quick and easy great tasting Mr beer or Coopers using their Cans of Goo… DME, LME and Hops!
And you're gonna love it…
Here Are Two of My Favorite Recipes
Ok the following are two recipes… one for Mr Beer and the others a Coopers DIY
You will need to pick up the equipment from either both or 1 of these companies depending on which beer you want to brew… ( I have both these kits, and really dig them both!)
=> Mr Beer has put together a Brew Kit that has the fermenter, bottles, cans of goo to make your first two batches… this little kit is a blast to brew on… It creates 2 gallons of beer:

You can get this kit here on Amazon
=> Coopers DIY Kit also comes with everything you need to get started brewing… fermenter (one of my favorite)…. Mash paddle, hydrometer, bottles, caps, and a can of go to get you brewing your first batch. This kit makes 5-6 gallons of beer:

You can get this kit here on amazon
(Note: As an Amazon Associate I earn from qualifying purchases.)
Now is beer brewing time….
Mr Beer Brewing Instructions
Mr. Beer 1776 Ale
My buddies love this beer!
The Story Behind this Brew….
The great nation of the United States of America signed their Declaration of Independence in 1776, This marked the begging of the nation. On July 4th independence day is celebrated and this beer will help you celebrate and rejoice in your home brewing triumph. This ale is a classic you will enjoy brewing for many years.
Profile:
This classic APA provides an amazing balance that its style is known for. A fresh, amber hue meets your eyes, while the aromas surrounding the hops provide a sweet welcoming floral smell to your nose. An array of its caramel malts convey a plush flavor, as the Crystal hop additions provide some bite and odor to provide for a nicely balanced finish.
Ingredients List:
Ok if you are going to Brew this one you will need the following:
Mr Beer beer kit

Mr Beer 1776 Ale ingredients

1 x 250g Coopers Carbonation Drops

(Note: As an Amazon Associate I earn from qualifying purchases.)
So again if you want to Brew the Mr Beer 1776 Ale order up those ingredients and equipment and follow along with the instructions with the kit and you will be enjoying this fine brew before know it…
Coopers Home Brew Kit Instructions
Coopers Celebration Ale
Beer Description:
"This Celebration Ale had been respectively created to celebrate Coopers' 150th Anniversary. The Celebration Ale Kit has been described as a as a hop forward classive ale with a darkish red tone. Coming in with an ABV of 5.2%, it has a modest aroma of fruity esters with just a small hint of citrus & a pleasant finish. As well it has just a bit more bitterness taste to it then their other beers. This beer could be considered an English Pale Ale, but with the later additions of the American hops as well as the New Zealand hops some might consider it more of an Amber
Ingredients List:
Ok if you are going to Brew this beer you will need the following:
Coopers DIY beer kit (or equivalent equipment)

1 x 1.7kg Thomas Coopers Bootmaker Pale Ale

1 x 1.5kg Thomas Coopers Amber Malt Extract

1 x 500g Coopers Dextrose

1 x 25g Nelson Sauvin Hop Pellets

1 x 25g Centennial Hop Pellets

1 x 1 sachet Safale US-05 Dry Yeast

1 x 250g Coopers Carbonation Drops

(if you purchased the DIY kit it comes with the drops)
(Note: As an Amazon Associate I earn from qualifying purchases.)
Celebration Ale Recipe Instructions
Ok where the Mr Beer Brewing Instructions come with the kit you order to brew the Mr Beer 1776 Ale… Coopers Home Brew Kit Instructions do not come with the Celebration Ale… But have no fear… Here they are:
To Begin…
=> In your fermenter mix the following ingredients together with 2 liters of hot water:
Amber Malt
Traditional Draught
Dextrose
=> Then add cold water until the volume in the fermenter reaches the 18 liter mark.
=> Now stir the ingredients until they are thoroughly mixed.
=> Now check the temperature inside the fermenter… you want it to be around 21 Degrees Celsius. So if it is colder then that add warm water up to the 23 liter mark on the fermenter. If it is warmer then the 21 degrees, add cold water to bring the level to the 23 liter mark on the fermenter.
=> Sprinkle in the dry yeast on top of the liquid in the fermenter.
=> Put your fermenter in a dark room with a temperature of around 18C – 21c.
=> After 3 days of fermenting, it is time to add your hops into the fermenter. I recommend you put the hops in a Sanitized hop bag, muslin bag, mesh bag… put the hops in the bag and then put the bag in the fermenter.
=> Your beer is done brewing when its gravity has remained stable for 2 days.
=> That is it… now it is time to bottle your beer… Put 1 coopers carbonation drops in a 330-375ml bottle or 2 drops in a 740ml-750ml bottle.
=> Store the bottles in a dark place… after one week they will be fully carbonated … BUT if you can wait 1-4 months the beer will taste much better.
That's it for today… I trust you enjoyed this post, if you have any questions on the Mr Beer brewing instructions, or the Coopers hone brew kit instructions I covered in this post then by all means post a comment below with your question and I will be sure to reply to you!
Happy brewing my friend…
Cheers!
Big Robb is out