When it comes to choosing the best Homebrew starter kit to use you have a few different options to choose from.
First off you are going to have to decide how you want to brew beer before you can choose a starter kit.
There are many ways to brew beer and each has kits you can buy to simplify the process for you…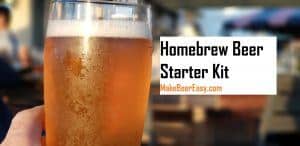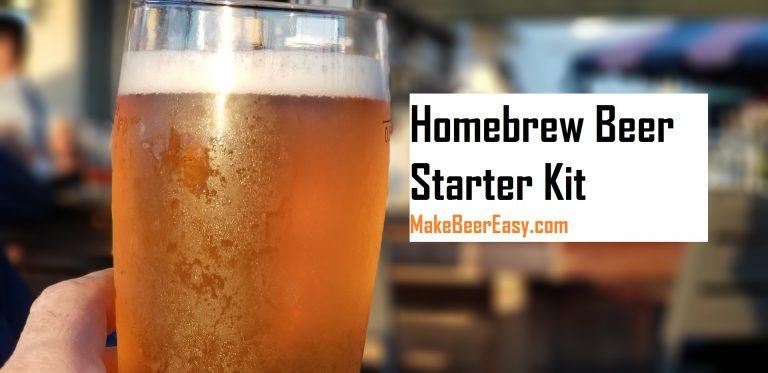 In this post I will quickly review the 3 main methods you can brew beer and then discuss the starter kits I recommend for each…
Malt Extract Beer Kits (difficulty – beginner)
Most people start brewing beer from these kits…
They are the easiest way to start brewing beer and require the least amount of equipment to get started.
The kit itself is a can of malt extract, with a package of yeast under the lid.
All you do is:
warm up the can in a sink of hot water to liquidize the malt somewhat….
fill the fermenter up with some warm water…
dump the can of malt into the fermenter…
stir it good with a sanitized spoon…
top the fermenter up to the required volume level (either hot or cold water depending on the required temperature)… sprinkle the yeast in on top…
then put the lid on…
place fermenter in a dark area in your home until fermentation is complete…
prime beer with priming sugar and then bottle…
…in two weeks you will have carbonated beer!
Now that is a VERY high elevated overview of how to make beer from these malt extract kits... but it is the basic process of how it is done….
Have no fear… the kits themselves come with the exact step by step instructions to brew up the batch of beer. And they are designed to be very very easy….
Coopers beer kits are the best in my experience and most people seem to like and start with the coopers lager kit. I have brewed it a few times and it is one of the better beers you can make from these malt extract kits….
Most homebrew stores carry the coopers kits… Adventures in Homebrewing is my favorite place to buy beer kits from. Here is a review I did of them if you are interested in getting their beer kits: Adventures in Homebrewing Review
They also have a large selection of their own beer kits that are very good.
As for the equipment you need to brew the beer itself… the Coopers homebrew kit comes with everything you need… to include the fermenter, mash paddle, beer bottles, hydrometer… AND it comes with 1 can of malt extract to get you up and brewing your first beer… I love this kit and to this day still use the fermenter as it is one of the best I have come across.
You can read my full review on this homebrew beer starter kit here: Coopers homebrew kit review
Partial Mash Beer Kits (difficulty – intermediate)
Partial mash is where you move from using the malt extract kits to starting to use individual ingredients to make your beer.
It is one step closer to all grain brewing... you will still use malt extract (liquid or dry), but the malt is not like the beer kits we just talked about… where they come already pre-hopped and ready to make beer… with partial mash brewing you are going to need to boil the malt extract… you will then add what is called specialty grains to the brew in order to give your beer its flavor, body and color… you will also be adding hops during the brewing process…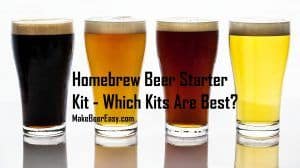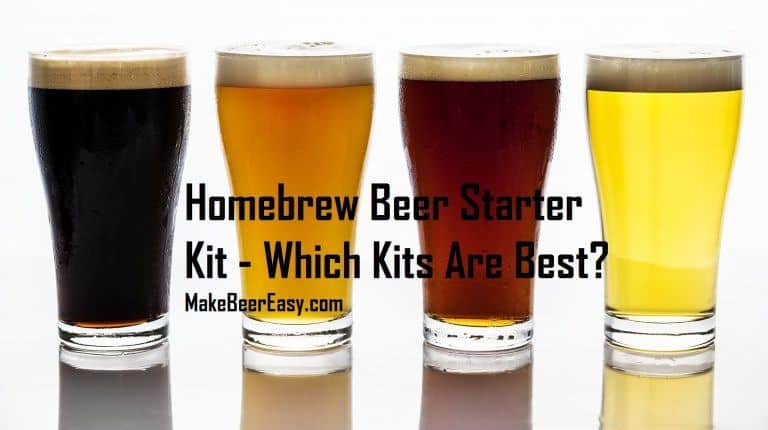 The beer that you make with the partial mash beer kits is a BIG step up in quality and taste from the beer you make from malt extract… however there is a bit more work and time involved in the brewing process… don't get me wrong it is not a lot or work and is quite fun in my opinion but it goes from the novice level to intermediate level as far as difficulty goes.
Equipment wise again you will use the Coopers Homebrew starter kit we talked about above… and on top of that you will need a kettle… we recommend a 5 – 8 gallon kettle…
As for the beer kits themselves… Brewers Best has the best partial mash kits on the market by far… they come with all the ingredients and detailed instructions and recipe to brew yourself up some very tasty beer.
Adventures in Homebrewing carries the Brewers Best Kits.
All Grain Beer Kits (difficulty – advanced)
Alright… when you move to all grain you have arrived… this is where the best beer is made.
Having said that I do recommend that if you are new to brewing you start with the malt extract kits… then move to the partial mash kits before moving to the all grain beer kits…
The reason for this is that brewing beer is not hard… BUT there are a lot of steps involved… when you start with the partial mash kits you are learning the first steps you will need to understand when it comes to brewing… you will use this knowledge when you move to all grain brewing… AND the equipment you pick up you will use with all grain brewing…
The same goes for partial mash brewing… what you learn there will help you with your all grain brewing if or when you decide to advance to that all grain. Some people never do… some people like the beer they make with the malt extract kits and never brew any other way, which is great! The choice is yours.
When it comes to all grain beer kits… they come with all of the ingredients you will need.
You will no longer be using malt extract at all… instead you are going to replace it with base grains. The beer will basically be made from scratch using the base grains, specialty grains and hops.
The kits you use will come with everything… all the instructions… the recipe and the ingredients.
Adventures in Homebrewing has the best all grain kits I have come across… whatever type of beer you want to brew they have a kit for it… pale ales, blondes, IPAs, stouts, reds, etc.
You will need to now purchase more equipment…. the simplest and easiest and least expensive way to brew all grain beer is either Brew in a Bag or its close cousin All-In-One Brewing Systems.
You can read about them here:
– Brewers Edge Mash and Boil Review (this is my favorite way to make all grain beer)
Additional Resources
Alright so now you have to choose which method you are going to use to brew your beer.
Here are a few other posts I have done to help you get started:
– Best Beer Making Kits – Which to Use
– How to Brew Craft Beer – 3 Ways to Get Started
That's All Folks
So there you have it… let me know in the comments below if you have any questions and I will be sure to help you out.
Also let me know which homebrew beer starter kit you choose to get started with.
Remember to have fun with this… it's a great hobby!
Cheers
Big Robb is out!