Is Michelob Ultra gluten free? The short answer is no, it is not gluten free.
Details on Michelob Ultra
Michelob Ultra is a light lager owned by Anheuser-Bush InBev who also owns other popular beer brands such as Budweiser and Bud light. It is brewed in St. Louis, Missouri, USA, and is presently ranked as the 8th best-selling beer in the USA. It has an ABV or alcohol by volume percentage of 4.2%.
Taste-wise it is similar to most American light beers. Some people consider it to be watery and lacking in taste while others enjoy the flavor and find them to be very refreshing. It can be purchased in both cans and bottles as well as in pints at most establishments that sell beer. At present Michelob Ultra does not have a gluten free version.
Why Michelob Ultra is Not Gluten Free 
Even though it is considered a light beer it is brewed the same way as most other beers. Beer is made by using malt which comes from barley and is actually sugar that is released when the barley malt is crushed. This sugar is then mixed with water, yeast, and hops during the brewing process. Although Hops are gluten free, barley does contain gluten and for most people who are gluten intolerant or are following a gluten-free diet, they should stay clear of anything containing gluten.
Most countries advise that beverages containing fewer than 20 ppm of gluten are considered gluten-free. However, keep in mind this does not mean they do not contain any gluten as they still do. All test results for Michelob Ultra that we have seen indicate a High Positive meaning it contains more than 20 ppm of gluten.
Frequently Asked Questions
What common beers are gluten-free?
Although Michelob Ultra is not gluten-free, more and more breweries are brewing them and they are becoming more popular all of the time. The following is a list of just some of the breweries that do offer some gluten free options:
Alt Brewery out of Wisconsin has quite a few selections
Aurochs Brewing Company in Pennsylvania
Anheuser Bush now offers a gluten free beer called Redbridge.
Armored Cow brewing out of North Carolina
Buck Wild Brewing in California
B.C. Brewer in Maryland
Most beer stores will have options for gluten free beer, but just be sure to take a close look at the label first.
What beer has the least amount of gluten?
For people who do not like the taste of gluten-free beers, it is reported that some popular beers on the market actually have less than 20 ppm gluten and in many cases, people with sensitivities to gluten are able to drink them without any problems. Although being a light beer, Michelob Ultra is not one of these beers. Two popular brands that are considered to have the least amount of gluten and are under 20 ppm are Heineken and Corona.
What is the most popular gluten free beer?
It really depends on what style of beer you like, do you like an IPA, APA, Pale Ale, Lager, etc?
Liquor.com has ranked the best gluten free beers into different categories, the best overall winner is an IPA from GhostFish brewing called Grapefruit.
Our recommendation is to pick your favorite style of beer and then try different offerings from a variety of breweries until you find the one you like. Everyone's taste buds and preferences are different so it is very difficult to name one beer superior to the other.
Last Word
So now you know Michelob Ultra is not gluten free but there are many options out there for you from beers that have reduced amounts of gluten to beers that are completely gluten free, and more and more options are hitting the market all the time.
Cheers, Big Robb is Out!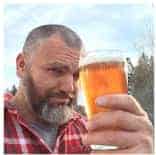 P.S. Do you brew your own beer or are you interested in getting started? If so I recommend you pick up the recipes for my top 5 best-selling beers from my brewpub. By adding a product called clarity ferm to them you can make all 5 gluten free. Details for recipes on the side of the blog or bottom if on your smart device. Enjoy!