Guinness known for its dark color and white is head is one of the most well-known and recognizable beers in the world. It is a flavorful stout with rich caramel flavors that tastes smooth and goes down even smoother. It is the go-to beer for many people on Saint Patrick's day every year, but for people with Celiac disease or who have an intolerance or sensitivity to gluten many will wonder is Guinness gluten free?
Unfortunately, the answer is that no Guinness is not gluten free!
Details About Guinness
Guinness is a dry Irish Stout that was originally brewed in Dublin Ireland in 1759. It was brewed in the now world-famous St. James Gate, and still is to this day. It is available in 120 plus countries around the world and is also brewed in 50 of them.
It is typically sold in a 20 oz Imperial-sized pint, however, you can also purchase it in bottles and cans. Being a stout it is not considered a hoppy beer and surprising to some people who think it is a strong beer it only has a 4.2% ABV.
Outside of Ireland the biggest markets for Guinness are Great Britain, Nigeria, and the USA. Most people consider the color of this beer to be black, in fact, it is officially a deep ruby red.
Why Guinness is Not Gluten Free 
Although there is no wheat used in making Guinness, like most beers on the market it is brewed using malted barley. Barley along with many grains contains gliadin which comes from gluten.
Having said that, there are many people with gluten issues that say Guinness does not bother them. This could be due to the fact that many countries define any beverage that has less than 20 ppm gluten as being "gluten free".
There are some reports that indicate that Guinness has less than 20 ppm but the majority seem to indicate it has higher ppm. There is no official report by the company indicating the ppm, and they do not call it gluten free, so if you are concerned about whether it is gluten free it is best to avoid it.
Frequently Asked Questions
Is Guinness safe for celiacs?
No, due to the fact that it is brewed with barley which contains gliadin and can trigger inflammation in the small intestines it is not recommended for celiacs.
How much gluten is in a pint of Guinness?
The majority of reports indicate that on tests it has shown a very high positive at or over 20 ppm (parts per million). Meaning there is a significant amount of gluten in a pint of Guinness.
Is Guinness dairy free?
Yes, Guinness dry Irish stout is dairy-free as it does not contain any lactose. When it comes to stouts, lactose would be found in milk stouts.
The Final Word
In closing Guinness is not gluten free, unfortunately. However, there are many gluten free beers on the market and more show up all the time. There are plenty of gluten-free stouts that you can try if you have a sensitivity or intolerance, however, Guinness is not one of them.
Additional Reading:
Are hops gluten free?
Is Michelob Ultra gluten free?
Cheers, Big Robb is Out!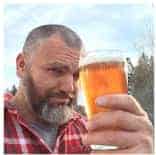 P.S. If you make your own beer or have considered doing so, you might want to check out our offer to get the recipes for my top 5 best selling beers from my brew pub. Using a product called clarity ferm it is easy to make these recipes gluten free. Details are on the side of the blog or at the bottom if you are on a smart device. Enjoy!