If you are a craft beer enthusiast and perhaps even consider yourself a hophead, then you are likely no stranger to Simcoe hops. Regardless of whether you are up to speed on the exact name of the hops that provide the beers you drink with the flavors and aromas you enjoy, if you like hoppy beers there is a very good chance that you have already experienced this very popular hop variety in some of your favorite beers.
Named after Washington State's Simcoe County, Simcoe is one of the most popular types of hops used by brewers in recent years because of its unique combination of floral, fruity, and herbal aromas as well as its high alpha acid content which also makes it very good for adding bitterness to the beer in order to balance out the sweetness from the malt.
In this article we are going to dive into what makes Simcoe hops so unique, the flavors and aromas it brings to beer as well as looking at some of the beer styles it is typically used in, and lastly, for those of you who brew your own beer, we will provide you with a Simcoe SMASH recipe you can brew to really get a feeling for the characteristics of this hop.
What are Simcoe Hops?
Simcoe hops are a type of hop that is known for having a strong, robust flavor and aroma with notes of pine, citrus, and passion fruit. The alpha acid content or IBUs of Simcoe hops is also quite high ranging from 12 – 15%, which makes them great for creating intense bitterness in beer recipes. The unique thing about Simcoe hops is they can also be used and often are used as a finishing hop as well as a dry hop in many styles of beers such as IPAs and pale ales due to the strong flavors and aromas they impart to the beer.
History of Simcoe Hops
Simcoe Hops were invented by Charles Zimmermann, developed by a company called Select Botanicals, and then first released in 2000 by Yakima Chief Ranches. It is a trademarked hop and as a result, its parentage or lineage is unknown.
As a result of its unique flavors and aromas, it became a popular choice in making hoppy beers like IPAs and Pale Ales by commercial breweries, craft brewers, and homebrewers alike and quickly emerged as one of the top two best-selling hops in the United States as well as also being a top seller around the world.
Flavor & Aroma Profile of Simcoe Hops
The flavor of Simcoe can range from subtle to intense depending on the amount used during the brewing process and when it is added. Since they have a high alpha acid content if added early on in the boil they can add a strong bitter taste to the beer. When added later in the boil and during dry-hopping, it can add an intense flavor of tropical fruits such as mango and papaya.
Its aroma is very similar to its flavor, typically being described as having tree-like, piney characteristics with notes of citrus fruits like tangerine, grapefruit lemon, apricot, passion fruit, and melon.
When it comes to the flavor and aroma it imparts to the beer it is often described as being aggressive, strong, and pungent.
Simcoe hops are well-suited for flavor and aroma additions in most beer styles, particularly those with hoppy characteristics, such as IPAs and Double IPAs. Surprisingly they can also be used to add complexity to maltier beers like Scottish Ales or Brown Ales.
Simcoe Hops Profile
Alpha Acids: 11 – 15.5%
Beta Acids: 3 – 5.5%
Total Oils: 1 – 3%
Storability: Maintains 70 – 80% of its oils for up to 6 months stored at 68℉.
Cone Size: Medium
Uses: Bittering, Flavoring & Aroma
How to Brew Beer with Simcoe Hops
It depends on what you are looking to accomplish and what style of beer you are brewing. But overall If you are brewing a 5-gallon batch and are using them for bittering you would add them at the start of the boil and typically 1 – 2 ounces would be used.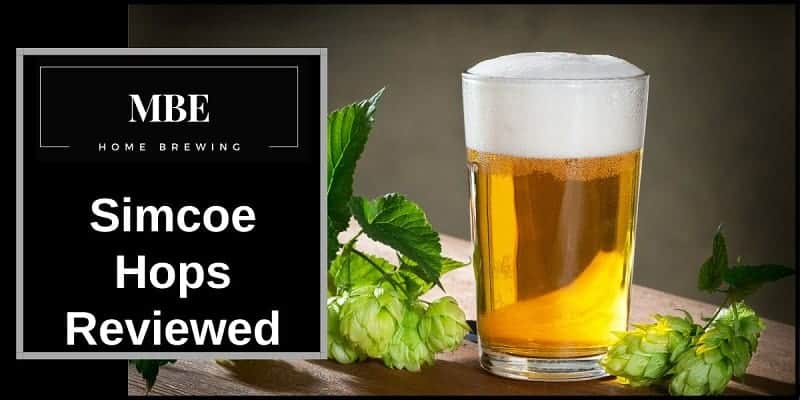 As a flavoring addition, you could add 0.5 – 1 oz towards the end of the boil, typically around the 15 – 20 minute mark, and for aroma the last 5 minutes to flame out works well, and again 0.5 – 1 oz. To add more aroma you can dry hop also, once primary fermentation is complete, you can add one or two additions 2-3 days apart or simply do one addition. 1 – 2 oz is typically used for dry hopping.
As for other hops to pair with it, Citra, Mosaic, Cascade, Galaxy, Chinook, and Centennial are all good options that go well with Simcoe.
Hops You Can Substitute Simcoe For
Outside of Simcoe being a triple-purpose hop (bitterness, flavor, and aroma), it has become as popular as it has due to its piney and tropical fruit-like flavor and aroma. As a result of its popularity and being used in so many commercial and craft beers it can sometimes be a difficult hop to source out and is also becoming more expensive to buy. As a result, you may find you need or want to use a different hop as a substitute.
Some great hops that work as good substitutes for Simcoe are Citra, Mosaic, Amarillo, Centennial, and Columbus. While none of these hops provide quite the same flavors as Simcoe, they are similar and can also be used in combination to provide similar characteristics to the beer.
Other options that people have used as supplements are Cascade and Chinook since they provide an earthy and citrus aroma that is close in character to Simcoe.
Beer Styles That Use Simcoe Hops
Although Simcoe can be and is used in many different styles of beer ranging from light-bodied to full-bodied and sweet to hoppy the most popular styles of beer that use Simcoe are India Pale Ales (IPA), American Pale Ales (APA), and Session IPAs; as all of these beers are known for their strong citrus and piney aromas and flavors which is what Simcoe brings to the table.
They are also known for having a higher level of bitterness or IBU and where Simcoe hops are higher in alpha acids and can provide the desired bitterness along with the flavors and aromas it is a win-win for the brewer.
You will also see Simcoe hops often being used in beers with higher alcohol levels, such as Imperial IPAs and Triple IPAs because in order to brew higher levels of alcohol more grains are used which can cause the beer to be overly sweet, the bitterness from the Simcoe hops helps to balance this sweetness out while also imparting the flavors and aromas these beers are known for.
Simcoe can provide a unique flavor profile to many different beers and overall is a great addition to most styles of beer.
Commercial Example of Beers that Use Simcoe Hops
When it comes to commercial examples of beers that use Simcoe, there are a lot on that market that you can try…
Some of the more popular beer brands with Simcoe hops include:
Russian River Pliny the Elder
Stone IPA,
Bear Republic Tropical IPA
Stone Levitation Ale,
Founders Centennial IPA,
Firestone Walker Union Jack IPA,
and Dogfish Head 90-Minute Imperial IPA.
Another option for you to try if you are looking for a beer with Simcoe is your local craft brewery as many of them use this hop, and of course, an even better option is to brew one yourself…
Simcoe Hop SMASH Recipe
If you really want to get a feel for the characteristics that a hop like Simcoe imparts to a beer it is recommended that you brew a SMASH beer using Simcoe as the hop. SMASH stands for Single Malt and Single Hop. Since Simcoe will be the only hop used in the recipe and there will not be any specialty grains interfering with the flavor and aroma profile you will be able to really get a great understanding of the characteristics of this popular hop.
The following is a recipe for you to try…
The Simcoe SMASH
Batch Size: 5 gallons
OG: 1.061
FG: 1.012
IBU: 75
ABV: 6.5%
Malt/Grain Bill:
13 lbs Two Row
Hop Schedule:
1 oz Simcoe (60 min)
2 oz Simcoe (10 min)
2 oz Simcoe (1 min)
2 oz Simcoe (dry hopped – 3 – 4 days into fermentation)
Yeast:
Fermentis – Safale – American Ale Yeast US-05 (or any American ale yeast)
If you brew this recipe, understand that SMASH recipes don't make for the best beers in the world, but they do highlight the hop you are learning about. So if you brew it let us know what you think of Simcoe.
P.S. If you want more great recipes to brew be sure to pick up your gift of Big Robb's top 5 favorite beer recipes from his brewpub, details are on the side of the blog. Cheers!