As I write this it is now the middle of October in Eastern Canada, the leaves have already turned color and are starting to fall off the trees. It is getting colder day by day. Winter is on it's way. For the homebrewer in me this means it is time to switch from brewing lighter beers and break out my darker beer recipes to include one of my all time favorites: The Porter
There is something about the darker malts and the colder fall and winter months that go hand in hand nicely. Today we are going to take a close look at how to homebrew a porter. We will first review the style profile and ingredients of this delicious beer. I will then provide you with an all grain porter recipe you can use to brew your own and for the beer geeks out there I will finish up by providing you with a brief history of this popular beer.
So let's get brewing…
Style Characteristics
Appearance: Many believe this beer is black in color when in actuality it is medium to dark brown. It's clarity should also be good and it has a decent head retention that is typically lighter tan in color.
Aroma: The majority of its aroma comes from the grain bill. If English base grains are used you should be able to pick up some nice biscuit and bread-like aromas. All versions will have a mild roasted smell, with many having chocolate like notes. You may also catch toffee or caramel aromas. There will be little to no hop aroma present.
Taste: The taste of this ale will match it's aroma. Expect to taste typical English ale bread and biscuit flavors along with the expected roasted, chocolate and caramel flavors. Once again you should not pick up much from the hops.
Mouthfeel: Although still present it will have a lighter creamy mouthfeel as compared to a Stout. The overall body would be considered medium as well as it's carbonation level.
How to Brew a Porter 
As a homebrewer you will enjoy developing your Porter recipe because they allow for a lot of room to get creative especially with the grain bill. You can mix and match different base and specialty grains from one batch to the next and come up with some very different tasting versions of this style.
Grains: Considering this is homebrewing you can certainly use Two-Row for your base malt if you like; if you do it will impart a sweeter taste. However considering this is a traditional British style ale I would recommend using an English pale malt. Marris Otter or Golden Promise are my favorite base malts when brewing a Porter; as they impart more of that bread or biscuit like flavor I expect from this style of beer.
For specialty grains if you are aiming to be as traditional as possible you will want to include Brown Malt in your recipe. You can then finish up your grain bill by adding a combination of black and chocolate malts; darker crystal malts can also be used. Lastly I recommend some roasted wheat which increases the body and also provides some roasted chocolate and coffee like flavors and of course increases the head retention.
Hops: For the hops I would also recommended that use English strains such as Northern Brewer, Willamette, Fuggles, Challenger and East Kent Goldings.
This style of Ale should not be hop forward; you should not be able to pick up much of any hop aroma or flavor.
Your first hop addition will be at the 60 minute mark after which there is no requirement to add any more hops. If you wish to add more additions do so around the 20 minute mark and some brewers will even lightly add dry hops to their Porter recipes.
Yeast: Moderate attenuating English yeast strains should be used. I always prefer dry yeasts simply because they are so easy to use and work so great. For this style of beer I recommend either Safale S-04 or Nottingham Ale Yeast.
The Old Black Boot (All Grain Porter Recipe)
The following is a recipe you can try out if you like. Feel free to mix and match the ingredients with any we just discussed.
ABV – 4.7%
IBU – 26.7
SRM – 31.78
OG – 1.048
FG – 1.012
Fermentables
9 lb Maris Otter
1 lb Brown Malt
1 lb Chocolate Malt
0.4 oz Roasted Wheat
Hops
1 oz East Kent Goldings (60 mins)
1 oz East Kent Goldings (20 mins)
Yeast
Brewing Instructions
Mash for 60 mins at 154 degrees Fahrenheit.
Sparge with 170 degree Fahrenheit water up to your pre boil level.
Boil for 60 minutes.
Add hop additions as per the recipe.
At the end of the boil cool your wort to yeast pitching temperature, transfer to fermenter, pitch your yeast.
Let ferment for 2-3 weeks.
Cold crash for 2-3 days
Bottle or keg.
Drink & enjoy!
Origins Story
The following is for those of you who like a little background history on the beers you make.
The story goes that Porters first hit the beer scene in the early 1700's. Apparently pubs would serve pints of beers to their customers that were actually a mixture of beers poured into the same pint. Somewhat of an olden day beer cocktail. Apparently this mixture became quite popular and brewers eventually attempted to replicate its flavor which resulted in the first Porter being brewed.
Originally Porters were made using brown malt and due to the malting process would have provided a smoky flavor to the beer. Large amounts of hops were also used and the ABV would typically be high at around 6-7%. It was also aged and stored in large vats to be fully conditioned for up to 18 months.
Early in the 1800's Daniel Wheeler invented black malt which changed forever how Porters were brewed. Instead of using all brown malt, brewers could use pale malt for the majority of the grain bill and a much smaller percentage of the black malt to provide the flavor and aroma, although the flavor produced by black malt is more bitter than brown malt it quickly caught on with more brewers. A porter brewed with black malt vs brown would in reality be called a Robust Porter.
Ingredients & Equipment to Brew
You can source out your ingredients at any homebrew store. You can also check out our list of recommended online vendors also. When you purchase from them at no additional cost to you they actually provide us with a referral fee which helps support this site and is greatly appreciated. You can check out that list here: Homebrewing supplies online.
When it comes to equipment you need to brew this beer, it is an all grain beer, so on top of your fermenter, bottles or kegs you are going to need an all grain home brewing setup. I brew on what is referred to as an electric BIAB or all-in-one system. They are by far the simplest way to make all grain beer, have the lowest price tag and make delicious homebrew. You can check out the systems I use here: Electric BIAB – Everything you need to know.
There you go my friend you now know how to homebrew this delicious beer for yourself. Try out that recipe and feel free to let me know in the comment section if you have any questions.
Not go get your brew awwnn…
Cheers Big Robb is Out!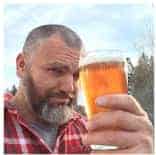 P.S. For a limited time I am giving away my top 5 all time best selling recipes from my brew pub. You can sign up to get them for free today on the side of the blog or the bottom if you are on a smart device. Enjoy!